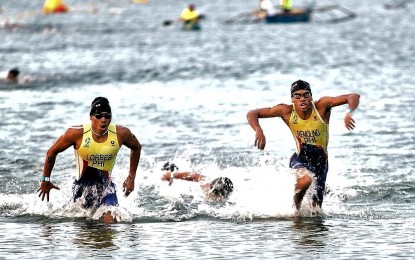 MANILA – The Triathlon Association of the Philippines (TRAP) will send 11 athletes to Japan for the 2023 Asia Triathlon U23 and Junior Championships that will be held in Gamagori on June 22 to 26.
The event distance in the U23/Junior (Sprint) will be 750m (swim), 20km (bike), and 5km (run) while in the U23/Junior Mixed Relay (Super Sprint), it will be 280m (swim), 7.2km (bike), and 2km (run).
Cebu City's Andrew Kim Remolino and Faith Raven Alcoseba, Iñaki Emil Lorbes, Juan Francisco Baniqued, and Joshua Alexander Ramos will compete in the U-23 division while Erika Nicole Burgos, Gene Heart Quiambao, Kira Ellis, Lady Samantha Jhunace Corpuz, Dayshaun Karl Ramos, and Matthew Justine Hermosa, who is also from Cebu, are entered in the Junior division.
The athletes will be accompanied by coaches Ani de Leon-Brown, Louann Ramos, and Cebuano Roland Remolino, as well as TRAP secretary general Ramon Marchan, when they leave on June 21.
"We are sending our next-generation triathletes to the Asian Championships, as part of our long-term program to maximize exposure in world-class competitions and high-performance training camps for our high-potential triathletes. Their performances in these events will likewise be a basis for selection to the Asian Games in Hangzhou (China) in September plus the results of the recent SEA (Southeast) Games in Cambodia," TRAP president Tom Carrasco said in an interview on Saturday.
Burgos, Lorbes, Ellis, and Hermosa won the mixed team gold medal in the aquathlon while Remolino finished third behind teammate, Fil-Spanish Fernando Casares, and Indonesian Rashif Yaqin in triathlon during the SEA Games. (PNA)