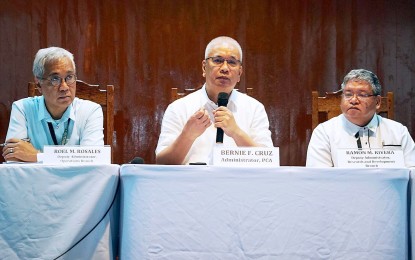 MANILA – The Philippine Coconut Industry (PCA) is optimistic the prices of oil extracted from copra will bounce back during the "ber" months.
Deputy Administrator Roel Rosales on Monday estimated the demand for the commodity will increase starting in September.
"We anticipate that the demand on oil will increase during the "ber" months," he said during a press briefing for the week-long celebration of the agency's 50th anniversary at the PCA main office in Quezon City.
The PCA official noted that at present the price of oil has decreased because of low demand from the international market due to several factors such as the prevailing Ukraine-Russia war, and the slowdown of the Chinese economy due to the pandemic.
"Prices are dictated by international markets, dictated by the events that transpired in the global arena," he added.
Rosales reported that the farm gate prices of oil are from PHP21 to PHP24 while the mill gate price is PHP27 to PHP30 depending on where the oil is being sourced.
On the other hand, PCA administrator Bernie Cruz said they are asking for a PHP11-billion budget to be able to implement the agency's projects to further improve the industry.
"The PHP11 billion is a reinvestment. We can get it back. We will help the farmers make profit and improve their lives," he said.
Cruz reported the country is consistently in the top three copra-producing countries, aside from India and Indonesia.
He noted that they are encouraging farmers to plant more trees and for them to be open to innovations.
Aside from copra, Cruz said there are 60 other products that can be derived from coconut.
"We can maximize the use of this tree which is why it is called the 'tree of life'," he added.
The PCA was created in 1973 through the Presidential Decree No. 232 with a mandate to promote the accelerated development of the coconut and other palm oils industry in all its aspects; provide general directions for the steady and orderly development of the industry; and achieve vertical integration of the coconut industry so that coconut farmers become participants in and beneficiaries of the development and growth of the coconut industry.
The agency will be celebrating its 50th anniversary on June 30. (PNA)