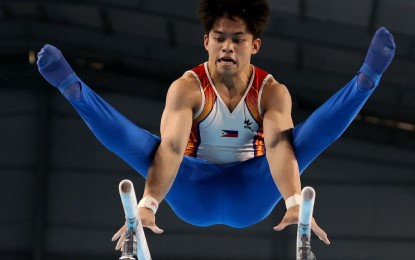 MANILA – President Ferdinand R. Marcos Jr. will present cash incentives to the medalists of the 32nd Southeast Asian Games (SEAG) and 12th ASEAN Para Games (APG) in a ceremony scheduled on July 20 at the Malacañan Palace.
"We are grateful for President Marcos' decision to personally award the incentives to Team Philippines, an expression of his admiration to our national athletes and their unwavering passion and dedication for representing the country," Philippine Sports Commission (PSC) Chairman Richard Bachmann said in a statement on Monday.
The government cash incentives amounting to PHP74 million, including PHP14 million for Para Games medalists, is in accordance to Republic Act 10699, or the Expanded National Athletes and Coaches Incentives and Benefits Act.
Medalists in the SEAG will get PHP300,000 for gold winner, PHP150,000 (silver) and PHP60,000 (bronze), while for the ASEAN Para Games winners, the incentives are PHP150,000 (gold), PHP75,000 (silver) and PHP30,000 (bronze).
The cash bonuses will come from the monthly remittances of the Philippine Amusement and Gaming Corporation (PAGCOR) through the PSC's National Sports Development Fund (NSDF).
"In the past, the PSC conducted two separate awarding for SEAG and APG medalists, but I believe it is more fitting to join the two for the President's first-ever incentives awarding during his administration," Bachmann said.
Bachmann will be joined by PSC Commissioners Matthew "Fritz" Gaston, Edward Hayco, Walter Francis Torres and Olivia "Bong" Coo during the awarding ceremony.
Also invited to the ceremony are Executive Secretary Lucas Bersamin, Senate Committee on Sports Chairman Sen. Bong Go, House Committee on Youth and Sports Chairman Rep. Faustino Dy III, Philippine Olympic Committee (POC) President Mayor Abraham Tolentino, and other sports executives and officials.
The Philippines won 58 golds, 85 silvers and 117 bronzes in the SEA Games to surpass its 52-70-105 haul in Vietnam last year, but remained fifth overall.
World champion Carlos Edriel Yulo bagged two gold and two silver medals for the gymnastics team, which also won two bronze medals.
In the ASEAN Para Games, the country collected 34 gold, 33 silver and 50 bronze medals to duplicate its fifth-place finish last year in Indonesia.
Chess produced the 13 gold medals -- six from Darry Bernardo, five from Cheyzer Mendoza and two from Sander Severino, while swimmer Angel Mae Otom captured four gold medals. (PNA)