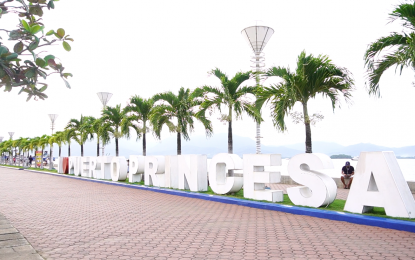 PUERTO PRINCESA, Palawan – The city administration here announced that all is set to launch the "Save the Puerto Princesa Bays Project" on Saturday, a major undertaking aimed at preserving the bays, restoring cleanliness in the shoreline neighborhoods and promoting order and discipline among the residents in these areas.
"It is imperative for us to save our bays now, while there is still time, because we ourselves, along with our children and grandchildren, will be the ones to benefit from it," said Mayor Lucilo Bayron on Wednesday.
Up for preservation are the four bays bordering the city: Puerto Princesa Bay, Ulugan Bay, Honda Bay and Oyster Bay.
The project's official kick-off will take place at the Basketball Court in Old Buncag, Barangay Mandaragat, Puerto Princesa City.
He invited residents to participate in the launching ceremonies that will start at 4 a.m. and will feature a range of activities.
He emphasized that this initiative would pave the way for recreational activities such as boating, kayaking, and swimming.
Bayron further pointed out that this would boost sports tourism, generating additional income for the city's economy, while also ensuring the proper conservation of marine biodiversity.
Participants have the opportunity to enjoy an "under the sea"-themed photo booth and engage in face painting.
Zumba dance sessions will be offered, alongside educational demonstrations conducted by the Puerto Princesa Water Reclamation & Learning Center Inc.
In Barangay Mandaragat, he said a series of cleanup activities have been planned, such as mudball throwing, garbage collection, urban forestry, baywalk tree-planting, and coastal cleanup.
Furthermore, mangrove planting activities and a "search and destroy campaign against dengue" will be conducted in the barangays of Pag-asa, Liwanag, and San Isidro.
Visitors will also be able to witness the wastewater cleaning process at the Septage and Sewerage Treatment Plant.
He conveyed his enthusiasm for the project, underscoring the significance of collaborative endeavors in safeguarding the marine ecosystem of the city.
"Our oceans are essential to our livelihoods and the well-being of future generations. Through this project, we aim to create awareness, promote responsible waste management, and instill a sense of stewardship for our natural environment," said Bayron. (PNA)