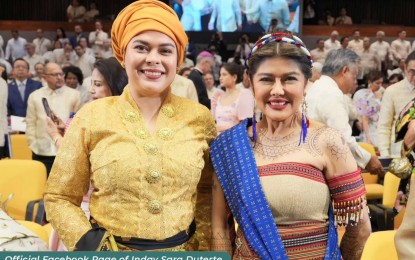 DAVAO CITY – Following the 2nd State of the Nation Address (SONA) of President Ferdinand Marcos Jr. on Monday, Vice President Sara Z. Duterte lauded the administration's peace-building efforts in Mindanao.
"It offers us hope and a deep sense of optimism that the efforts to stamp out terrorism and the peace-building initiatives of the past administrations are strengthened to bring about meaningful development for the region and its people," Duterte said in a statement.
As a Mindanaoan, Duterte said Marcos' leadership has inspired all government workers to be more aggressive in delivering what the administration has promised to the Filipino people.
During his SONA, Marcos touted the "regained peace" in Marawi City, as seen in various completed projects and several infrastructures that are being built.
"May hope, unity, vigilance, and pursuit of peace and development continue," Marcos said, as he noted that former adversaries of the government are now partners in peace.
Duterte said she was thankful "for President Ferdinand Marcos and his leadership marked with decisiveness, strength, fortitude, and political will — clearly demonstrated over the past year in office."
The Vice President also thanked Marcos for his "unremitting support of the reforms introduced by the Department of Education to the education system through the MATATAG Agenda," which will benefit not only the learners but also the teaching and non-teaching staff of the department.
"Thank you, Apo BBM, for reminding us of our obligation to our country — an obligation contained in the contract we signed with the Filipino people in the 2022 election," Duterte said. (PNA)