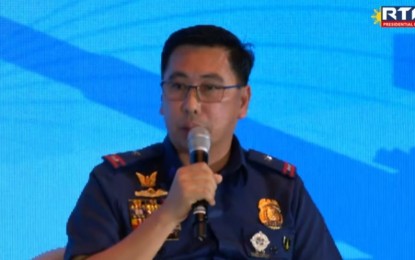 MANILA – The Philippine National Police (PNP) said it continues to boost its capabilities as well as its presence in far-flung areas to ensure peace and order.
PNP public information office chief Brig. Gen. Redrico Maranan said the police force's capability enhancement program focuses on the acquisition and upgrading of equipment and its ability to "move, shoot, communicate, and investigate".
"We would like to thank our President (Ferdinand Marcos Jr) for providing us funds to achieve our fill-up percentage requirement and we would like to report that on our move capability, we were able to achieve or attain a 54 percent percentage fill-up of our requirement for the year and for our shoot capability we are nearing our 100 percent percentage fill-up, we were able to achieve 99 percent for this year and for our communicate capability we were able to achieve our target for the year and now we have 64 percent percentage fill-up and on our investigative capabilities we were able to achieve a 52 percent percentage fill-up," Maranan said during the post-State of the Nation Address (SONA) Discussions at the Hilton Hotel Manila in Pasay City on Wednesday afternoon.
With this, he said the PNP can now effectively perform its mandate as the primary law enforcement agency of the country.
Maranan also reported the completion of 140 infrastructure projects, mostly composed of police stations in far-flung areas.
"So ngayon po mas madali nang maabot ng ating mga kababayan yung ating pulis sapagkat marami na tayong naipatayong police station lalong lalo na dun sa mga geographically isolated and disadvantaged areas (So now it's easier for our countrymen to reach our police because we built more police stations, especially in geographically isolated and disadvantaged areas)," he added.
PDEA: PHP22.74 billion narcotics seized since start of Marcos admin
Meanwhile, authorities have seized a total of PHP22.74 billion worth of narcotics across the country since the start of the administration of President Ferdinand R. Marcos Jr.
In its latest data released on Thursday, the Philippine Drug Enforcement Agency (PDEA) said a total of 53,286 were also arrested, including 3,556 high-value targets (HVTs) during the 38,439 anti-illegal drugs operations from July 1, 2022 to June 30 this year.
Authorities also dismantled 586 drug dens and one clandestine shabu laboratory in the same period.
At least 27,465 out of the 42,045 barangays (villages) have been declared drug-cleared as of June 30 while 8,071 barangays were drug-affected barangays.
These barangays have reached drug-cleared status after the issuance of a certification by members of the oversight committee on the barangay drug-clearing program. (PNA)