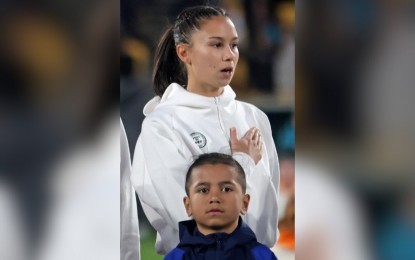 AUCKLAND – Born in Norway but proudly Filipino, talented midfielder Sara Eggesvik will set her feelings aside and will be battle-ready as the Filipinas play the Gresshoppene (the Grasshoppers) in a critical match on Sunday at the close of Group A in the FIFA Women's World Cup at Eden Park here.
"We have to put that aside when the game starts. I am playing for the Philippines. I will do my best to get a win and get points," Eggesvik said emphatically shortly after the Filipinas upset the Ferns 1-0 for their historic first World Cup win at the Sky Stadium in Wellington last Tuesday.
Another of Australian coach Alen Stajcic's prized finds, Eggesvik, whose father is Norwegian and mother from Davao, was born in the coastal city of Bodø (pronounced Budo), 1,188.5 kilometers northeast of the capital of Oslo and located near the Arctic Circle.
She caught the attention of Filipino fans during last year's 10th AFF Women's Championship where her midfield mastery and fluid play was in full display as the Filipinas bagged the country's first major international title at the heritage-rich Rizal Memorial Stadium in Manila.
With a cross inside the box, Eggesvik set up striker Sarina Bolden, whose smashing header in the 24th minute proved to be the winning marker that gave the Filipinas a new lease on life after suffering a 0-2 setback to Switzerland in Dunedin last week.
"I remember getting the ball in the 16-meter (box) and just crossed it. It was an amazing header by Sarina over three defenders. Although it was only one goal, we had to keep them away from (the) goal the rest of the way. It was a team effort. I am just so glad and grateful. I am so proud of this team," she said.
Trying to hold back her tears, Eggesvik, 26, said the victory over the fancied Ferns showed that "this team is really something special. It shows we can compete at this level and we will keep on fighting.
"It shows that it is possible to get a win, to get a goal and get points from our games. That motivates us. I am glad that we are not out already."
She paid credit to Stajcic and the rest of the coaching staff "who keep on pushing us and making us better every day. We have always believed in ourselves even when we lost and played bad games. We will keep on playing hard."
She acknowledged that while they would savor the winning moment, it would be back to the salt mines just as immediately in preparation for their crucial match against the top-ranked Norwegians composed of a bevy of superstars led by striker Ada Hegerberg, the 2018 Ballon d'Or winner.
"We have to restart again and think of the next game. Because it is coming soon, it is only a few days to go. We have to take advantage with what we have," she said. "We want to see if we can create trouble and be competitive. To keep our heads down and keep fighting."
While it appears to be a tall order, Eggesvik said toppling Norway would not only mean advancing to the knockout round but also will have a huge impact for football development back home.
"Going to the knockout stage, that would mean a lot. From being a small football country, we can inspire a lot of girls and boys to start playing football and show that it is possible to do something great although you are from the Philippines," she said. (PR)