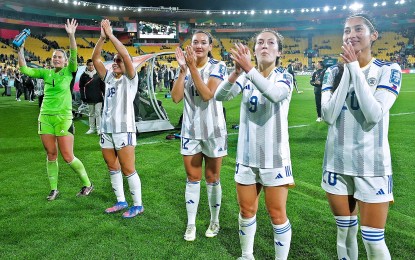 MANILA – After its historic maiden stint in the FIFA Women's World Cup in New Zealand, the country can look forward to another memorable stint by the Filipinas football team at the 19th Asian Games in Hangzhou, China in September.
The Philippines, ranked No. 46 in the world, absorbed a 0-6 defeat from No. 12 Norway at the close of Group A action at Eden Park in Auckland on Sunday.
Philippine Olympic Committee president Abraham Tolentino is optimistic that the women's football team will perform well during the Sept. 23 to Oct. 8 event, dubbed the Olympics of Asia.
"Good job!" Tolentino said of the Filipinas after he watched the live coverage of the match.
"Qualifying to the World Cup is historic and an accomplishment in itself. Scoring a goal and beating the co-host [New Zealand, 1-0] made the campaign even more historic and worth remembering," he said in a statement.
"The Filipinas showed that they can compete on the world stage and in turn, the world took notice of how strong Filipinos could become in football. And the campaign proves we can still catch up in the Asian Games with an intact lineup," he added.
A total of 395 athletes, competing in 37 of 40 sports, will participate in the Asian Games.
The Philippines is eyeing to duplicate or even surpass the four gold medals it won in the 2018 edition held in Jakarta and Palembang, Indonesia five years ago, courtesy of Hidilyn Diaz-Naranjo in weightlifting, Margielyn Didal in skateboarding and Yuka Saso, Bianca Pagdanganan and Lois Kaye Go in women's individual and team golf.
The country also bagged two silvers and 15 bronzes. (PNA)