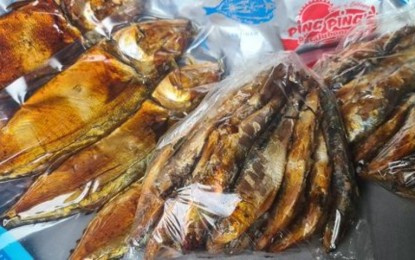 CALBAYOG CITY, Samar – For 40 years, Matobato village here maintains its identity as the top producer of smoked fish, locally known as tinapa, a favorite pasalubong among tourists here.
The oldest store in the village is Pingping's Tinapa founded in 1983 by Guadalupe "Pingping" De Guzman. When she died in 2015, her daughter Guada De Guzman-Abrera, 52, took over the business.
On June 28, 2016, Abrera decided to turn the brand named after her mother's nickname into one-stop pasalubong shop--the "Pingping's Tinapa and Pasalubong Center" located in their village.
"When I continued my mother's business, I was hesitant. But I was confident that I could manage the operation for as long as I know how to read, write, and use a calculator," Abrera said.
Tinapa refers to the process of preserving or cooking fish by smoking it with firewood.
In the case of Pingping's, the family uses wood shavings to smoke the fish, giving the fish a richer color and flavor.
The entire process usually starts at 3 a.m. when fishermen go to the sea to start catching fish. After three hours, styrofoam boxes filled with fresh fish arrive at Pingping's to be sorted out.
Workers carefully remove the entrails from the fish after thoroughly washing it, taking care to avoid damaging the stomachs.
After cleaning, the fish are boiled in salted water, dried, and placed on a wooden tray called kaping before starting the 30 to 45-minute smoking process.
Tinapa can be purchased at PHP100 per pack for hasa-hasa and PHP50 each per pack of buraw. The price is higher for vacuum-packed products since it is still consumable after three months.
"We don't want to export fish from other countries because I am confident that the fish in Samar are healthy. We also want to support our local fishermen," Abrera said.
Inspired by the growth of Pingping's Tinapa, other villagers also ventured into tinapa production. The other two known shops are Marites Tinapa and Estring Tinapa.
Maria Teresa Abenir, opened Marites Tinapa in 1996. In a day, her processing area can produce hundreds of packs of tinapa of different types of fish.
"Since we want to bring our product closer to the target market, we have vendors roaming around to sell our product," Abenir said.
Another tinapa producer in the village is Estrilla Escobar, the owner of Estring Tinapa, who started the business in March 2000.
"If refrigerated, our vacuum-sealed tinapa has a shelf life of one year. Those with regular packaging have a shelf life of one week," Escobar said.
Rex Juanillo, Calbayog City Agriculture Office agricultural technologist, said there are eight tinapa producers in Matobato village alone.
"These tinapa producers do not have their own fishing and they just buy fish from our local fishermen, creating a sustainable market. The production has also hired several workers in the community," Juanillo said in an interview.
Since the tastiest tinapa in Samar province can be found in Matobato village, the city's visitors usually drop by here to buy packs of tinapa for pasalubong, a Filipino tradition of travelers bringing gifts from their destination to people back home.
The coastal village is about 1.7 kilometers from the Calbayog's commercial district, which will only take a six-minute drive or a 21-minute walk.
Unlike in other places where smoked fish are made of milkfish and round scad, Calbayog's tinapa are made from freshly caught short-bodied mackerel and long-jawed mackerel.
A high-end product such as gourmet tinapa which is being prepared and packaged like Spanish sardines is also available to tourists.
Due to the popularity of the product, the city government hosts the yearly Tinapa Festival every October, a cookfest with tinapa as the main ingredient in cooking different types of dishes. (With reports from Ading Riodeque, Jesica Lentejas, and Roxanne Rojales, OJTs/PNA)