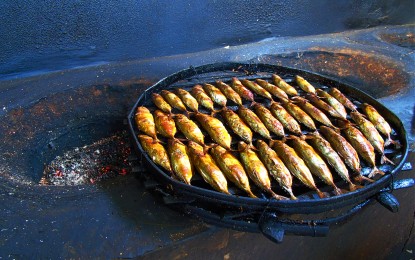 CATBALOGAN CITY, Samar – The Samar provincial government will soon launch another tourism campaign featuring local cuisine in the province as part of its "Spark Samar" branding.
Dubbed the "Secret Kitchen of Samar", the provincial government picked local dishes that will take center stage and complement the promotion of tourist destinations and the various products made from banig (mats) through their Lara brand.
These unique food products are found in Sta. Rita, Pinabacdao, Calbiga, Paranas, Motiong, Jiabong, Gandara, San Jorge, Pagsanghan, Villareal, Calbayog City, and Catbalogan City.
"It's called Secret Kitchen because, during olden times when people are cooking their heirloom foods, they would close all the windows and doors of their house to keep their ingredients and process of cooking a secret. This process and ingredients will soon be passed on to a relative as a way of preserving the cuisine within their family," said John Michael Cristobal, Samar tourism operations officer in an interview on Friday.
This project honors not just the legacy of the food but also the family that has long protected its secret recipes.
Food up for showcasing are those approved by the Food and Drugs Administration (FDA) and received intervention from the Department of Science and Technology (DOST) and the Department of Trade and Industry (DTI).
Bola Catalana and Tamalos of Catbalogan
On top of the list are the pride dishes of Catbalogan, the provincial capital of Samar. These are Bola Catalana and Tamalos.
Bola Catalana is Catbalogan's version of embutido, a Spanish generic term for sausage, which contains ground meat, seasoned with aromatic herbs and spices, and wrapped in the skin of the pig's intestines. The local version is wrapped in leaf lard known as sensal and ground pork with spices mixed with sliced cooked eggs and cheese sticks.
Unlike embutido that is cooked by steaming, Bola Catalaga is cooked by steaming and baking.
Tamalos is a variation of the tamale, a dish of Mexican origin, which found its way to the Philippines via the Manila-Acapulco Galleon Trade, which lasted from 1565 to 1815.
The Tamalos is an heirloom recipe consists of rice dough filled with pork and flavored with a sauce called Pipi-an, which is made of ground glutinous rice with chilies and pasotes leaves to produce that piquant flavor. A thick peanut sauce blankets the dish before it is wrapped in banana leaves and steamed.
Humba of Villareal
Another secret recipe in Samar is the Humba (sweet pork dish) of Villareal town, a favorite dish during fiesta celebrations.
Villareal's humba stands out since pork belly is cut in big chunks, flavored with soy sauce and native vinegar, a good portion of bay leaf, onion, garlic, corn pepper, sugar, and fresh peanut.
Like in the olden days, cooking humba is done using a pot where young coconut leaves are layered in the bottom before the ingredients are poured in and is cooked traditionally, in low heat over a stove.
Tinapa of Calbayog
The production of Tinapa (smoked fish) can be traced back to 1979 from the de Guzman Family, a native of Cavite province.
Unlike in other places where smoked fish are made of milkfish and round scad, Calbayog's tinapa are made from freshly caught short-bodied mackerel and long-jawed mackerel.
A high-end product of such as gourmet tinapa, prepared and packaged like Spanish sardines is also available to tourists.
Due to the popularity of the product, the city government hosts the yearly Tinapa Festival, a cookfest with tinapa as the main ingredients in cooking different types of dishes.
Pop Rice and Linupak of Jiabong
Jiabong is popular for its green mussel locally known as tahong and its by-products such as tahong chips, barbecue, spicy express, dynamite, nuggets, and sweet and sour balls.
But the town's upland village residents are also producing delicacies inherited from the ancestors which are alfajor (confection) such as pop rice and linupak.
Pop rice is a delicacy that is made from steamed rice, dried under the sun, and cooked in a caramelized sugar.
The villagers are also producing the local delicacy linupak made from freshly harvested rice mixed with young coconut meat and sugar then pounded in a wooden mortar. After pounding, the mixture is formed into small balls and wrapped in balanti leaves. Balanti is a small tree or a shrub that is found in the forest with leaves usually used in wrapping and covering foods.
Queseo of Gandara
Gandara town takes pride in Queseo, the oldest home-based industry, a product made up of carabao's (water buffalo) milk with a little mixture of vinegar. The milk is boiled and transformed into a white cheese after it is mixed with vinegar.
Governor Reynolds Michael Tan shared these are just some of the food, which will be showcased during the Secret Kitchen of Samar launching on March 12 to 15 in Shangri-la Mall in Mandaluyong City.
"These are only a few of the food that tourists may taste and eat when they visit Samar. We have more dishes, but as of now we only selected 10 dishes that Samar can offer to our visitors," Tan said.
"This is a way to invite more tourists to take on a culinary adventure in Samar and to enable local producers to penetrate local markets and international markets," he added.
Samar's tourism promotion is a brainchild of former governor and now Samar 2nd district Rep. Sharee Ann Tan-de los Santos, through the Spark Samar Tourism Program launched in 2015.
The program focuses on people's organizations in tourism-ready areas, provided assistance and intervention from provincial and national government agencies, and private organizations to improve their services towards tourists.
"Offering this food to the market takes time and study like we need to consider if the production can meet the demand," Tan said.
Other food producers in Samar may also pitch their products to the Secret Kitchen but this must have certifications from the FDA to ensure it is safe and properly prepared.
He added that the success of Spark Samar as a catalyst in changing the image of the province motivates them to continue making tourism as the driver of their local economy. (PNA)