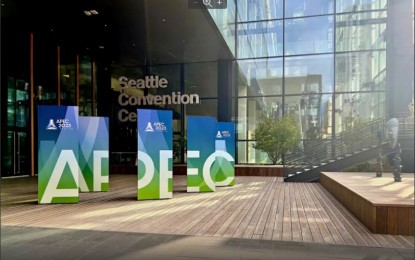 JAKARTA – The Asia-Pacific Economic Cooperation (APEC) member economies start a group of meetings in Seattle, making a broad-based push to improve economic resilience and interconnectedness, enable an innovative environment for a sustainable future, and affirm an equitable future for all.
Over the next three weeks, officials and ministers are meeting against the backdrop of a weak global economy outlook and fragmentation, persistently high inflation, as well as extreme heat caused by El Niño -- all of which hamper economic recovery as the region emerges from Covid-19 (coronavirus disease 2019), as noted in a release issued by the APEC Secretariat, and received here on Monday.
"The main focus of APEC has always been trade and investment liberalization. However, we need to broaden our work and push for a greener and more inclusive future despite differing views on geopolitical matters," APEC Secretariat Executive Director Rebecca Sta. Maria said.
Contrary to perceptions, Sta. Maria noted that APEC member economies continue to deepen their engagement and are united on the issues of climate change and ensuring that trade and investment bring benefits to all.
"APEC provides governments the platform for robust and candid discussions, share best practices and explore policy levers to implement effective structural reforms to ensure a more resilient and inclusive economic growth," she said.
These goals will be reinforced as APEC ministers in charge of disaster management, food security, health, energy, women, and the economy, as well as small- and medium-sized enterprises meet in Seattle this month.
US cabinet officials, including Secretary of Agriculture Tom Vilsack; Health and Human Services Secretary Xavier Becerra; and Secretary of Energy Jennifer Granholm, will host their counterparts while in Seattle, engage with local communities, and showcase the vibrant city as the center of international commerce.
"This meeting cluster builds upon work in previous meetings held in Detroit and Palm Springs where we advance our objectives to create green jobs; shape the digital economy; and build economic resilience and recovery, which will pave the way for further cooperation among APEC economies," United States Senior Official Matt Murray said.
Murray noted that Seattle is home to top US firms in key services and manufacturing sectors and is a major exporter of manufactured goods, agricultural products, as well as advanced technologies and services to the Asia-Pacific region that accounts for over 75 percent of the metro area's trade.
"It is thus a fitting venue to demonstrate the strong public-private partnership, which is the secret sauce of APEC's success over the years. We will use this opportunity to highlight this relationship and strengthen our engagement with other stakeholders as well," Murray added.
As part of the APEC 2023's Digital Pacific Agenda, this cluster of meetings will also include a series of events and activities focused on digital innovation, technology and entrepreneurship, called "APEC Digital Month: Building a Digital Pacific for All."
Seattle is no stranger to APEC. In 1993, the United States hosted the first APEC Leaders' Meeting on Blake Island in Puget Sound, off the coast of Seattle.
Seattle is considered as an appropriate setting for the final cluster of APEC technical meetings before the culmination of the US host year when APEC economic leaders meet in San Francisco in November. (Antara)