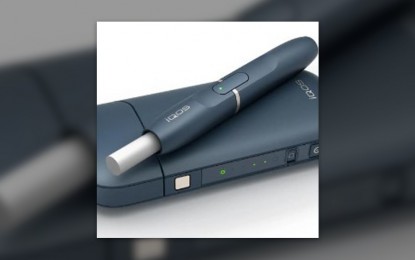 MANILA – The Department of Trade and Industry (DTI) has urged manufacturers of heated tobacco products (HTPs) to make the Philippines the next destination for their factories amid the increasing local demand for HTPs as well as exports opportunities.
During the International Tobacco Agriculture Summit in Taguig City Wednesday, DTI Undersecretary Ceferino Rodolfo said while local demand for cigarettes is expected to decline in the coming years from 49.61 billion sticks in 2022 to 39.06 billion sticks in 2027 because of the high prices of cigarettes due to taxes, significant increase in local demand for HTPs is expected.
Rodolfo cited a report from Euromonitor indicating that retail sales of HTPs in the country are expected to surge by 511 percent from 664.7 million sticks in 2022 to 4.06 billion sticks in 2027.
He said producing HTPs in the Philippines can benefit from the zero duty under free trade agreements (FTAs).
"HTPs, if manufactured in the Philippines, can be imported in ASEAN (except Vietnam), Australia, New Zealand, Japan, Korea, and Hong Kong at zero percent tariff duty," he said in his presentation.
In 2022, top export markets for Philippine tobacco products include South Korea at USD102.2 million, Thailand at USD98.29 million, Myanmar at USD49.4 million, Singapore at USD43.02 million and Malaysia at USD41.21 million.
Rodolfo said multinational companies are looking into opportunities to produce HTPs in the Philippines to take advantage of the local and global markets.
He cited that Philip Morris Fortune Tobacco aims to establish a PHP9-billion facility in Tanauan, Batangas for the production of HTPs for its IQOS devices.
"Other potential leads may include Japan Tobacco International, British American Tobacco, China Tobacco —manufacturer of the MOK HTP brands, and manufacturers of locally-distributed HTP brands such as Bohem Cigar, Esse, and Liqun," Rodolfo added.
"The Philippines is a global player when it comes to conventional tobacco products. While its footprint is currently small, opportunities to specialize and be globally competitive in emerging segments, high-tech products such as heated tobacco products, emerges," he said. (PNA)