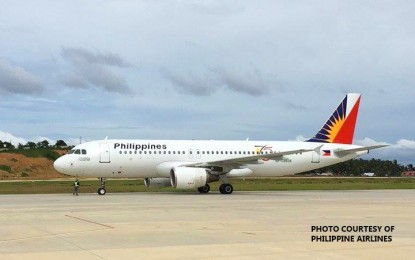 MANILA - The country's flag carrier is now on the recovery track, reporting a net income of USD250 million (PHP13.6 billion) and USD314 million (PHP17.4 billion) operating income for the first half of 2023, the Philippine Airlines (PAL) announced on Friday.
"We are pleased to see that Philippine Airlines is beginning to realize the benefits of the sacrifices we took over the past few years. PAL is on a recovery track and is now in a position to carry out major product and digital transformation initiatives in order to grow amid a more competitive and challenging aviation industry," Lucio C. Tan III, president and chief operating officer of PAL Holdings, Inc., posted on PAL's Facebook page.
With those figures, PAL said fleet expansion and services enhancements are in the pipeline.
Earlier, it announced that it is looking to hire 300 cabin crew this year as the airline boosts its fleet. Nine new Airbus A350-1000 long-range jetliners will be delivered to PAL starting 2025.
"We remain steadfast in our commitment to invest in new aircraft, improved cabins, and enhanced travel experience for our valued customers," said PAL president and chief operating officer Stanley Ng.
PAL is also increasing customer care and contact center agents, and rolling out a new customer relations management system within 2023 to provide more personalized self-service options for customers.
Meanwhile, the high volume of passengers helped PAL reach USD820 (PHP45.6 billion) revenue for the second quarter. Operating income for this period was USD179 million (PHP10 billion), 95 percent up from PHP4.8 billion year-over-year.
In the first half of 2023, PAL restored flights on several routes to mainland China, and launched nonstop services to Perth, Australia, along with flights from Clark to Caticlan and Boracay.
The flag carrier ferried seven million passengers, and operated 50,400 flights in the first half of 2023. These figures are 89 percent and 56 percent higher compared to the passenger traffic and operated flights, respectively, in the first half of 2022.
Passenger revenues rose to USD1.4 billion (PHP78.2 billion), or PHP33.1 billion higher year-over-year as demand continues to recover on PAL's international and domestic routes, it said. (PNA)