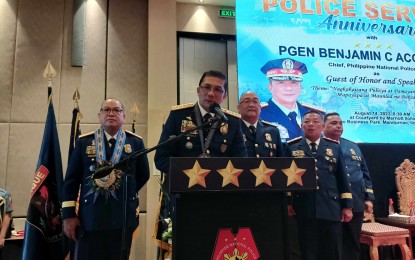 ILOILO CITY – Police officers with relatives running for posts in the Barangay and Sangguniang Kabataan Elections (BSKE) need to be reassigned before the start of the banning period for the transfer and detail of public officials and employees.
"We will make sure that before the prohibition of the reassignment, those police officers who have relatives and friends or most likely influence the result in their locality will be transferred," Philippine National Police (PNP) chief Gen. Benjamin C. Acorda Jr., said in a press conference here on Monday.
Acorda was the guest of honor in the celebration of the 122nd Police Service Anniversary (PSA) at the Police Regional Office 6 (PRO-6) held in a hotel here.
He said the PNP has been preparing for the elections since he assumed office and it has been the focus of their discussions at every command conference with regional directors whenever they go to Camp Crame.
In addition to reassignments, regional police offices should submit their deployment plan by name and precincts to determine if they need augmentation and in what areas.
Acorda said their campaign against private armed groups (PAGs); communist terrorist groups (CTGs); most wanted persons, especially those guns-for-hire and on the accounting of loose firearms will continue.
They will also focus on areas identified to have an intense political rivalry.
The election period begins on Aug. 28 simultaneous with the start of the gun ban and the prohibition on the transfer and detail of public officials and employees.
Meantime, in his message for the occasion, Acorda lauded the PRO-6 for being an "exemplar of innovation" manifested by its "enhanced, rapid, and optimized service to our community".
"Your indomitable resolve remains steadfast in the region, especially on your passion for community services, responses to natural and man-made disasters, and especially the campaign against criminalities that has yielded more than 6,000 arrests of wanted persons; confiscation, recovery and turning in of more than 4,000 loose firearms; and confiscation of estimated PHP240 million of illegal drugs," he said in his message.
The celebration was highlighted by giving awards to outstanding police units and individuals; five of whom are also national awardees including Maj. Ma. Liza B. Nofuente as Best Junior Police Commissioned Officer (PCO) for Administration, Negros Occidental Police Provincial Office as Best Police Provincial Office, Bacolod City Police Office as Best City Police Office, and Staff Sgt. Christian B. Ureta and Aklan Baghay Inc, a non-government organization of the Aklan Police Provincial Office, are both special awardees for good deeds.
Regional awardees included Col. Alexander G. Mariano as Best Senior PCO for Administration, Col. Leo B. Pamittaan as Best Senior PCO for Operations, and Lt. Col. Mark Darroca as the Best Junior PCO for Operations.
Also recognized were Executive Master Sgt. Eric M. Entero, Best Police Non-Commissioned Officer (PNCO) for Administration; Senior Master Sgt. Christopher P. Panes, Best PNCO for Operations; Staff Sgt. Resureccion R. Aliponso Jr, Best Junior PNCO for Operations; Staff Sgt.Rachel Ilumba, Best PNCO for Administration; and Best Non-Uniformed Personnel (non-supervisory) was Christine Florabelle Amelie R. Arcenas
The Roxas Component City Police Station under the Capiz Police Provincial Office was the region's Best Component City Police Office, the San Jose Municipal Police Station (MPS) of the Antique Police Provincial Office was Best MPS, 2nd Negros Occidental Provincial Mobile Force Company was Best Provincial Mobile Force Co., and the Iloilo City Mobile Force Company as Best City Mobile Force Company. (PNA)