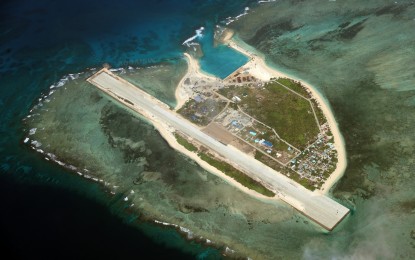 PUERTO PRINCESA, Palawan – A Palawan provincial board member on Tuesday announced that he and some colleagues are scheduled to travel to the West Philippine Sea to join the military and coast guard in planting coconut trees on Pag-asa Island, the main seat of government of Kalayaan town.
Board Member Aris Arzaga stated that the trip to Pag-asa Island on Aug. 22 is for a symbolic coconut planting initiative by the Kalayaan municipal government, the Armed Forces of the Philippines (AFP), and the Philippine Coast Guard (PCG).
"The objective is to exhibit solidarity and reinforce the country's territorial claim over the West Philippine Sea (WPS). We will depart on August 20—I encourage all of us—if we genuinely cherish our islands and seas within the West Philippine Sea, I implore our colleagues to participate. This will allow us to demonstrate to the world that these territories belong to us, as decided by the Permanent Court of Arbitration," he said.
Arzaga stated that the planting on Pag-asa Island will showcase to the world that the Philippines possesses the area in the West Philippine Sea, in line with the decision of the Arbitral Tribunal on July 12, 2016.
He said the activity of planting coconut trees holds a deeper significance and demonstrates the unity of the Palaweños in asserting the country's territorial claims.
Meanwhile, Board Member Ryan Maminta conveyed his support for President Ferdinand Marcos Jr.'s recent statement, wherein he clarified that there is no existing agreement between the Philippines and China to remove the stranded vessel BRP Sierra Madre from Ayungin Shoal.
"In an interview during the emergence of the issue and after China mentioned to him that the Philippines is not abiding by agreements related to the WPS and discussions concerning it, including the removal of the grounded ship, he stated that he is not aware of any deal or agreement. If there is any, he said that he rescinded it for the benefit of Filipinos. We are greatly pleased by these statements he made," Maminta conveyed.
Maminta added that such strong pronouncements from President Marcos are seen as providing effective guidance to the agencies tasked with establishing policies related to the WPS issue and the preservation of the country's exclusive economic zone (EEZ).
On Aug. 5, an incident occurred in the WPS when China's coast guard ships and militia vessels blocked the path of two Philippine supply mission boats and bombarded these with water cannons. (PNA)