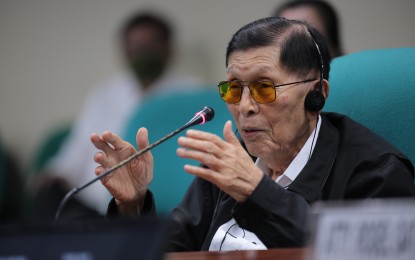 MANILA – It is beyond President Ferdinand R. Marcos Jr.'s control on what countries he would visit to advance the Philippines' interest at the international level, Chief Presidential Legal Counsel Juan Ponce Enrile said Saturday.
During the SMNI News' "Dito sa Bayan ni Juan" program, Enrile said Marcos needs to embark on foreign trips upon the invitation of host countries.
"It is out of his control," he said, referring to Marcos' overseas trips.
"He has to fit his time, available time according to the schedules of the meetings of various countries where we have an interest. Kung hindi naman siya pupunta, sino ang magtatanggol sa atin doon (If he doesn't go, who will defend us there)?" Enrile added.
Enrile issued the statement, after the Commission on Audit (COA), in its 2022 audit report on the Office of the President (OP), found that it spent PHP403,087,594 million for local and foreign trips.
Marcos is not in the position to decline the invitation for him to visit a foreign country, Enrile insisted.
He also explained that those trips were vital in elevating the Philippines' ties with nations it considers as allies and partners.
"Anong gusto nilang gawin ng Presidente? Uupo sa Malacañan? Hindi pupunta sa mga ibang bansa na hihingi ng tulong o kaya makipag-usap ukol sa mga problema, lalo na sa seguridad ng bansa (What do they want the President to do? Just sit at Malacañan and Not go to other countries to ask for help or talk about problems, especially national security)?" he said.
"Kailangang mag-biyahe ang Presidente araw-araw kung kinakailangan. 'Yung mga iba diyan, oo nga nandito, pero iba naman ang agenda nila. 'Yung biyahe ng Presidente, para sa bayan 'yun eh (The President has to travel every day, if necessary. Critics are here, but they have a different agenda. The President's trip is for the country)."
Had Marcos failed to accept the invitation to visit the host country, he would have been labeled "lazy, clueless, and weak," Enrile said.
According to the COA report, the OP's foreign travel expenses amounted to PHP392,307,409 in 2022, higher than the PHP25,255,163 incurred in 2021.
Local travel expenses decreased to PHP10,780,185 in 2022 from PHP11,536,738 in 2021.
Communications Secretary Cheloy Garafil on Wednesday said the OP's total travel expenses increased to PHP403,087,594 in 2022 from PHP36,791,902 in 2021 because the government aims to revitalize the Philippine economy through domestic and foreign engagements.
Under the 2024 National Expenditure Program (NEP) transmitted to Congress on Aug. 2, the OP is requesting an allocation of PHP1,408,894,000 for "local/foreign missions and state visits."
The proposed budget was higher than the PHP893.97 million under the 2023 NEP approved by Congress and included in the 2023 General Appropriations Act.
Marcos has so far visited 11 countries since he assumed the presidency in June 2022.
These include Indonesia, Singapore, Thailand, United States, Cambodia, Belgium, China, Switzerland, Japan, the United Kingdom and Malaysia. (PNA)