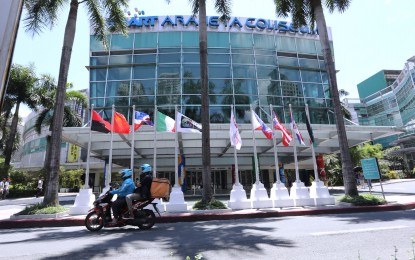 MANILA – Cignal TV will be the official Philippine broadcaster of the FIBA World Cup.
Cignal has put up a total of 24 cameras in the three arenas for the Philippine leg of the World Cup, which would be increased to 30 come the final phase at the SM Mall of Asia Arena in Pasay to bring probably the best basketball broadcast ever.
"To prepare for coverage of the FIBA World Cup 2023, we worked very hard to bring broadcast experts and experienced production teams together. Working as one while using the latest broadcast technology, we aim to capture every historic play and every winning moment," FIBA LOC Broadcast & Media Head Sienna Olaso said on Tuesday.
The FIBA Basketball World Cup 2023 coverage will introduce various innovations, including capturing game emotion and spectacle, enhancing storytelling, and showcasing unique behind-the-scenes moments, all produced by experienced international teams. Notably, the coverage will feature unprecedented camera plans throughout the tournament.
The games will be aired live on TV5 and One Sports on national free TV, One Sports Plus and PBA Rush on cable TV, and through Cignal and Satlite pay-per-view.
Gilas' FIBA WC games also on PTV
Olaso, however, revealed on Tuesday that the Gilas Pilipinas games of the FIBA World Cup would be seen as well on PTV.
"Meron kaming niluluto nang kaunti (We are cooking something) for Gilas Pilipnas games to be actually seen on PTV 4. We were graciously allowed by our partners from FIBA to air it para mas marami ang makakapanood (so more Filipinos can watch the games)," Olaso said during the Philippine Sportswriters Association Forum at the PSC Conference Hall inside the Rizal Memorial Sports Complex.
The former children's show host added, "We extended our offer to PTV 4 to actually carry it either live or delayed. We just want to make sure that every Filipino will have a chance to watch it."
Those who cannot watch the games live on TV can stream them on the Pilipinas Live, Cignal Play and Smart Livestream apps.
A unique FIBA WC live streaming
Pilipinas Live provides a comprehensive viewing experience, featuring Multi-Cam Viewing for basketball enthusiasts to witness every action from various angles, and Fan Stream Viewing that provides a distinctive perspective on the game's action, empowering fans to express their own opinions instead of solely relying on traditional game commentators.
Extended game coverage, from the pre-and post-game, is also featured on the app.
Subscribers can also join in the fun with its interactive features like in-game voting, polls, and quizzes during the game.
"Cignal has always been at the forefront of providing the best content for the Filipino sports fan. We recognize that our customers' viewing habits have evolved: Filipinos are now more mobile, often watching on their devices while on the go. As a response, Pilipinas Live was developed to meet the increasing demand for live and on-demand sports content, while also providing an interactive viewing experience for sports enthusiasts," said Gerard Milan, First Vice President, and Chief Revenue Officer of Cignal TV.
Apart from the TV and streaming options, some local government units and private entities have put up viewing parties as well during the Gilas games.
"We just want to make sure that every Filipino will have a chance to watch it," added Olaso.
The Philippines, Japan and Indonesia look to at least match the 3 billion total views during the 2019 FIBA World Cup in this year's edition. (PNA)