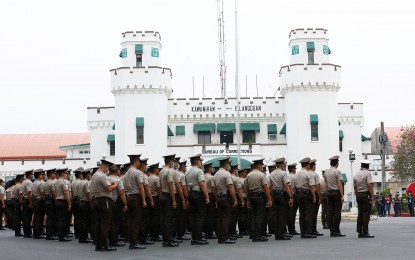 MANILA – Long overdue upgrades in security measures for prison facilities including scanners, closed circuit TV (CCTV) and guard dogs are among the Bureau of Corrections' (BuCor) priorities, its top official said Wednesday.
Following the request of the House Committee on Justice, the BuCor submitted an additional budget proposal amounting to almost PHP1.5 billion that Director General Gregorio Pio Catapang Jr. said is needed "to do what must be done in various prison and penal farms nationwide in support and solidifying the Philippine Justice System and ensure public safety."
Prior to its request for additional budget, the BuCor had proposed a PHP7.2-billion budget proposal for its 2024 National Expenditure Program.
Among the priority projects that the BuCor is proposing for the additional budget is the acquisition of K-9 units worth PHP10 million to reduce use-of-force incidents and contraband smuggling, and deter unwanted behavior in prison facilities.
The BuCor also plans to use the budget for scanner machines to detect vehicles for weapons, explosives and contraband (PHP812 million); a body-worn camera (BWC) system to document interaction and deter illegal, and inappropriate behavior by correction officers and persons deprived of liberty or PDLs (PHP320.4 million); and a CCTV surveillance system (PHP154.6 million).
The proposals also include the construction of a mess hall for PDLs amounting to PHP169.1 million. This was after Senate investigations into the BuCor noted the absence of a separate mess hall with appropriate stocking facilities for food.
Sen. Ronald Bato dela Rosa noted that in the absence of a dedicated abattoir and storage facility for meat inside the New Bilibid Prison (NBP), meat has to be sourced from live animals brought into the prison, which would require the use of butchering knives that could be smuggled out of the kitchen area and used as weapons by the PDLs.
Catapang lamented how the BuCor has been "neglected" in the past 50 years. "I said 50 years, because our last prison and penal farm was built in Leyte in 1973 by Former President Ferdinand E. Marcos Sr., the father of our President now, Ferdinand R. Marcos Jr.," he said.
"Our lawmakers have seen with their own eyes the status of the New Bilibid Prison and the plight of our PDLs, not to mention the inadequacies and flaws that need to be fixed in BuCor," Catapang added. (PNA)