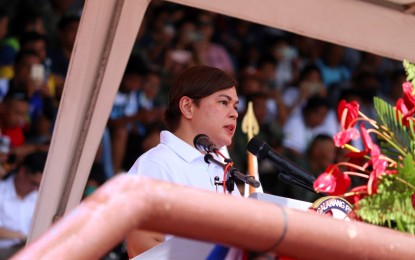 ZAMBOANGA CITY – Vice President and Education Secretary Sara Duterte called on cadets to be role models in discipline and unity during the opening ceremony of the 2023 Reserve Officers' Training Corps (ROTC) Games Mindanao leg at the Joaquin F. Enriquez Memorial Sports Complex here on Sunday.
"Be a role model in discipline. That's why we are supporting ROTC," said Duterte, who holds the rank of colonel in the Philippine Army reserve force.
The ROTC Games, which aims to give cadets the chance to compete in national sports association events, is the brainchild of Senator Francis Tolentino.
Tolentino, tournament's honorary chair, said the ROTC Games is a potent tool for patriotism and nation-building.
"Sports development is likewise an important aspect of nation-building. Sports can bring people together from different backgrounds and cultures, just as we have been brought here today. It can help to promote physical fitness, mental well-being, and social cohesion, helping to create a sense of national identity," he said.
"ROTC is a very potent tool for the development of a sense of discipline, teamwork, and patriotism in young people, which can help them become more responsible and productive citizens and leaders of the future," he added.
Tolentino also thanked the Vice President for gracing the opening ceremony, saying "It's truly significant since she is a genuine advocate of youth and sports development through military service."
"I am hopeful that our shared goals will be achieved, and that ROTC will be a vital force in ensuring that our young people are shaped and formed to protect this nation, promote unity and peace, and to lead with utmost integrity and honor," said Tolentino, who is also the president of the Samahang Kickboxing ng Pilipinas.
Other officials in the event were Zamboanga City Mayor Mayor John Dalipe, National Defense Assistant Secretary Henry Robinson Jr. and Philippine Sports Commission consultant Kirsten Evan Regodon, who delivered the speech of chair Richard Bachmann.
"As we watch our cadet athletes compete over the next few days, let us remember that they are not just representing their schools, but also their communities, their families, and their dreams for a better and more prosperous Philippines. I would like to extend our heartfelt gratitude to the organizers, coaches, and personnel who have worked tirelessly to ensure the success of these games," read Bachmann's speech.
Meanwhile, 2023 International Weightlifting Federation Youth World Championships gold medalists Albert Ian Delos Santos, Angeline Colonia and Rosalinda Faustino, and Asian Youth and Junior champions Rosegie Ramos, Jhodie Peralta and Alexsandra Ann Diaz took part in the torch relay.
Delos Santos lit the cauldron.
More than 1,000 cadets representing the Army, Air Force and Navy have registered for the Mindanao leg which will kick off on Monday with the athletics events at JFEM Sports Complex, kickboxing at Western Mindanao State University covered court and women's volleyball at Zamboanga Peninsula Polytechnic University gym.
Fifty medals are at stake in athletics, 67 in arnis, 12 in kickboxing, 19 in esports, 16 in boxing, 9 in basketball and six in volleyball.
Army ruled the recent Visayas leg in Iloilo City with 25 gold medals, 25 silvers and 34 bronzes.
Philippine Air Force garnered 23 golds, 23 silvers and 22 bronzes, while Philippine Navy got nine golds, nine silvers and nine bronzes. (PNA)