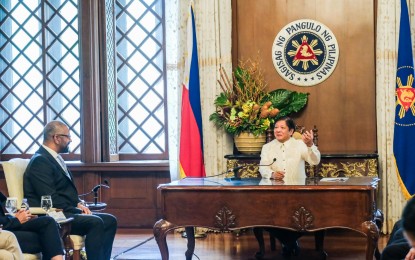 MANILA – The Philippines and the United Kingdom are eyeing to beef up their cooperation in key areas such as trade, security and defense, renewable energy shift and climate change action.
This developed after President Ferdinand R. Marcos Jr. on Tuesday welcomed British Foreign Secretary James Cleverly at Malacañan Palace in Manila.
Marcos told Cleverly that there are many opportunities the post-pandemic economy has to offer, adding that Southeast Asian nations' recovery is "fast approaching."
"There is a shift for Europe to look post-pandemic to the region, to Asia, Southeast Asia, to begin with for the transformation of our economies, and to improve the positioning of all our economies, post-pandemic. I think that's basically what we have to face," Marcos said during Cleverly's courtesy call.
Cleverly agreed that the two countries need to enhance their trade relations, noting that there is still room for growth in the future.
Acknowledging Marcos' efforts to attract more foreign investments, Cleverly said he is optimistic that British firms would put up business in the Philippines with the help of UK Export Finance (UKEF).
UKEF, the UK's export credit agency, helps British companies to win export contracts by providing attractive financing terms to their buyers; fulfill contracts by supporting working capital loans; and get paid by insuring against buyer default.
"I know that you are very focused on attracting investment into the country and I've been discussing with our ambassador about UK export finance facility which I hope would encourage UK companies to invest more broadly," Cleverly told Marcos.
Data from the British Embassy showed that the two-way trade between the UK and the Philippines increased by 26 percent on an annual basis to GBP2.4 billion in 2022, with Philippine exports to UK reaching GBP1.2 billion.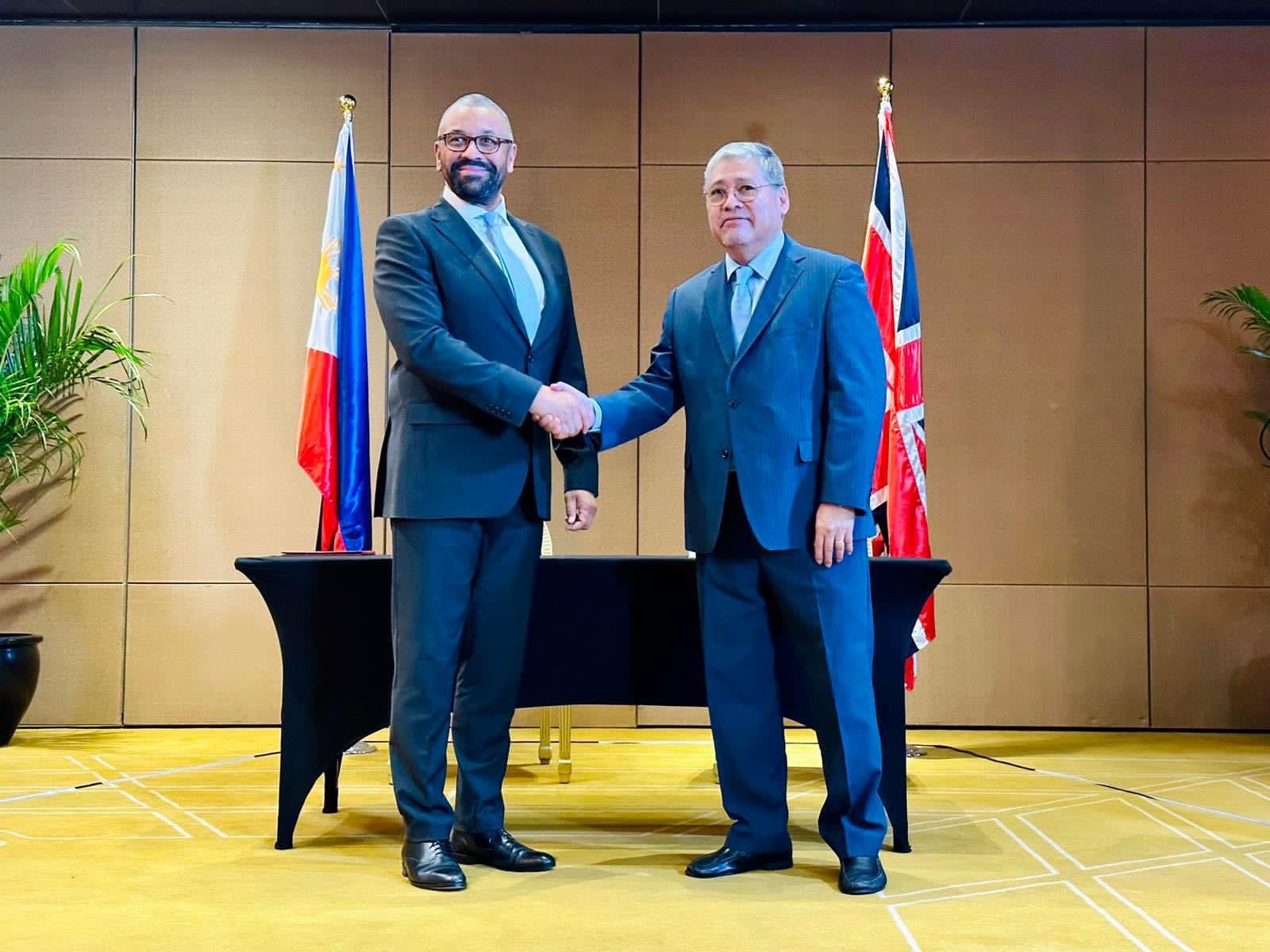 Framework agreement
Cleverly and Department of Foreign Affairs (DFA) Secretary Enrique Manalo also formally signed on Tuesday the "Joint Statement of Intent" to develop the framework agreement, which will define the scope of the two states' bilateral cooperation under the Philippines-UK Enhanced Partnership.
The partnership was launched in December 2021 to strengthen UK-Philippines collaboration in key areas including defense, climate and environment, trade, maritime security and foreign policy, among others.
"The UK is building enduring partnerships and the Philippines is one of those key partners," Cleverly said. "We are like-minded countries, we share many values and I am certain that the prosperity of the UK and the prosperity of the Philippines will be very closely interwoven for many years to come."
Apart from boosting cooperation, the two foreign secretaries discussed "pressing and evolving regional and international issues of mutual concern" during a bilateral meeting at the Diamond Hotel in Manila.
"The UK is an important long-standing partner of the Philippines, especially in this time of geographic upheavals, economic disruptions, and challenges to the rule of law," Manalo said.
"Foreign Secretary Cleverly's visit to Manila, the first British foreign secretary to do so since 2016, heartens us since it also signals the strengthening of our bilateral ties in trade, investments, security, maritime cooperation and other fields."
Before meeting Manalo, Cleverly visited the Philippine Coast Guard to discuss cooperation on maritime security, counter-terrorism and environmental protection.
The UK was among the foreign governments that expressed serious concern over the Aug. 5 water cannoning incident involving the Chinese Coast Guard while a Philippine boat was en route to resupply the troops stationed at the BRP Sierra Madre in Ayungin.
Possible defense alliances
Marcos said he is open to the idea of forging alliances and partnerships with the UK when it comes to security and defense.
"But that seems to be the evolution, the geopolitics these days. It is a welcome evolution in my view, and again your visit here I think, is a clear indication of that intent," he said.
Cleverly said there are lots of opportunities for the two nations to create a "positive" bilateral relationship and take advantage of huge growth potential for potential partnerships.
The Philippines, Cleverly said, is "a really good friend and partner to the UK."
Climate change and renewable energy
Cleverly said the Philippines and the UK may also strengthen their cooperation to mitigate the impacts of climate change, as well as to promote the use of renewable energy.
"I think once again that's an area where we can work very, very closely together," he told Marcos.
"It was really a kind of an audit of two countries that are I think instinctively, very much like-minded, with very, very similar attitudes to world affairs, and very similar appetites to try and make the most of the bilateral relationship, as well as the UK's focus on Southeast Asia." (PNA)