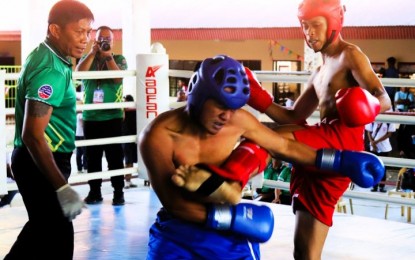 ZAMBOANGA CITY - Mark Christian Ursabia of University of Mindanao-Davao won the men's 60kgs low kick gold medal in the Philippine Army (PA) category of the 1st Philippine Reserve Officers' Training Corps Games Mindanao leg kickboxing competition at the Western Mindanao State University gym here on Thursday.
The BS Criminology sophomore needed less than three minutes in the first round to beat Renz Pejana of Zamboanga del Sur Provincial College.
"I am very overwhelmed by this win. I never thought of it this way. This is my first gold, I hope I can maintain my energy in the National Championships," the 21-year-old Ursabia said.
Jayford Ramos of the 12th Regional Community Defense Group and Joy Opon of Surigao del Norte State University shared the bronze medals.
Sharing the limelight with Ursabia were Ghen-Yan Berdon from Nuevo Zamboanga College, and Andrei Garcia of Zamboanga State College of Marine Sciences, who won in the same weight class for the Philippine Air Force (PAF) and Philippine Navy (PN) categories, respectively.
In the women's division, Grace Sheila Toledo of Surigao del Norte State University-Main Campus defeated Jonabelle Mondejan of Zamboanga del Sur Provincial Government College, 2-1, to rule the 66kgs event in the PA category.
Champions in the men's 57kgs were Prince Alfred Remolado of Jose Rizal Memorial State University (PA), John Michael Etac of Nuevo Zamboanga College (PAF) and Jerome Negapatan of Zamboanga State College of Marine Sciences (PN).
Shariff Alkhamar of Dr. Aurelio Mendoza Memorial College (PA), John Gabriel Gonzales of Western Mindanao State University (PAF) and Adburahman Abbas of Zamboanga State College of Marine Sciences (PN) topped the men's 63.5kgs event.
Other winners were Alessa Ibo Araque (PA), Camille Joy Sanchez (PAF) and RJ Lyn Tumindog (PN) in the women's 52kgs. event while Angelie Musa pocketed the women's 56kgs gold medal in the Army category.
In PA boxing bouts, Jade Cabaya of Agusan del Sur College of Agriculture and Technology (48-51kgs), Mark Paul Fernandez of ST-CAST-Santo Tomas in Davao (52-54kgs) and Bryl Bayogos of 12th RCDG (54-57kgs) won their final bouts at the Zamboanga Peninsula Polytechnic State University.
Meanwhile, Edezza Lyne Laja (women's 52-54kgs) and Kristine Grace Marquez (women's 54-57kgs) of Army were the lone competitors in their respective events to earn outright berths in the national finals along with James Kert Valdez (men's 48-51kgs) and Ralph Lorenz Valdez (men's 51-54kgs) of Air Force.
The Philippine ROTC Games is a collaboration of the Philippine Sports Commission, Commission on Higher Education and Department of National Defense.
The next leg will be the Luzon regional qualifying scheduled from September 17 to 23 at the Cavite State University main campus in Indang, Cavite, to be followed by the National Capital Region leg and the National Championships. (PNA)