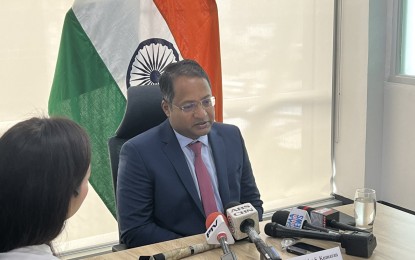 MANILA — India seeks to expand naval interaction with the Philippines as the two nation's priorities align in keeping a free and stable Indo-Pacific region.
In a press briefing on Friday, Indian Ambassador to the Philippines Shambhu Kumaran said he sees opportunities for cooperation in the naval domain as defense is a "relatively new area" of engagement between New Delhi and Manila.
He added that India is not ruling out possible joint patrols with the Philippine Navy but noted that there is no active proposal for the activity yet.
"We do believe that strengthening our national security capabilities will bring greater stability and obviously through stability, progress and prosperity in the region," he said.
Kumaran said this intention to boost defense ties with Manila is not targeted against any country but a logical move as two fellow democracies.
"Without attributing it to any one motivation we obviously would like the region to have the evolution that is rules-based, that does not sidestep the interests of smaller states, and that aggressive maneuvers are avoided because we all have a common stake in this region," he said.
The envoy said India would like to see the Indo-Pacific region develop in a "peaceful manner" where freedom of navigation and unimpeded commerce and overflight also continue.
This year, India for the first time called for the adherence to the 2016 Arbitral Award on the South China Sea which invalidated Beijing's sweeping claims under its so-called nine-dash line in the region.
India along with the Philippines, Malaysia, Indonesia and Vietnam protested China's new "standard map" which included several Philippine features in the West Philippine Sea as part of Beijing's national boundaries.
The map released in 2023 also showed Arunachal Pradesh and the Doklam Plateau as well as the Aksai Chin that China controls but India claims.
As China insists on its South China Sea claims and the motivation behind the map's release, Kumaran said countries "should be sensitive to each other's concerns".
"I express my solidarity with the sentiment in the Philippines with regard to such efforts and what I would call cartographic expansionism," he said.
"I think it's important to state our positions and our views. And I think both India and the Philippines have done so efficiently," he added. (PNA)