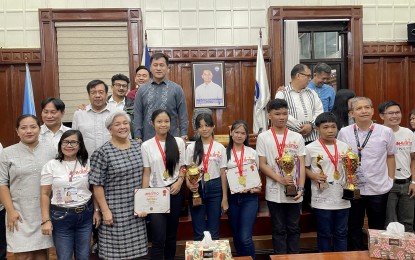 LAOAG CITY — After bagging major awards in the recent Hong Kong International Math Olympiad (HKIMO), five math wizards from Sarrat National High School (SNHS) in Ilocos Norte will next compete in the World International Math Olympiad (WIMO) to be held in Hanoi, Vietnam in December.
Brian Jansen Vallejo, Allen Iver Barroga, Zyrene Angelica Dulluog, Natalie Margaret Balisacan and Ma. Cassandra Reich Duque brought home one world champion award, one world star, two world first runners-up and five gold awards from the HKIMO held Aug. 25 to 28.
Seventeen countries from Asia, Europe, Africa, and Oceana competed in the event.
The latest feats of the five students qualified them for the WIMO, participated in by Math elite students across the globe, according to Department of Education Ilocos Norte superintendent Donato Balderas Jr. during a courtesy call on Ilocos Norte Governor Matthew Joseph Manotoc and members of the Sangguniang Panlalawigan at the provincial capitol on Monday
"The Philippine team finished strong with 12 podium finishes, 36 gold winners, 44 silver winners, 55 bronze winners and 42 merit awardees. The best performer comes from Ilocos Norte in the person of Brian Jansen Vallejo, a world star and world champion awardee for Secondary 1," said Balderas.
He added the Education department takes pride in the students' achievements as they serve as inspirations not only to their fellow students but also to their teachers.
Vallejo said he owed his success to God and to everyone who guided him until the final round.
With a few months left before the Vietnam competition, Vallejo's team said they are preparing hard for the world championships.
Early on, the Ilocos Norte board passed an unnumbered resolution recognizing the top-performing students.
The Sarrat public school is the only one in the province with a special program for mathematics under the Department of Science and Technology.
During the pandemic, the SNHS, with the support of the public and private donors, got the chance to win in international competitions. (PNA)