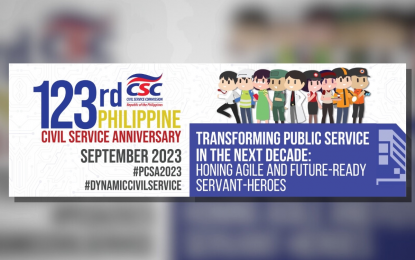 MANILA – The Civil Service Commission (CSC) is partnering anew with JobStreet.com for the conduct of the Government Online Career Fair (GOCF) from Sept. 18 to 22, 2023 for individuals looking to pursue opportunities in the government.
The GOCF will create a virtual platform for government agencies and jobseekers to interact, share details regarding job openings and the associated prerequisites.
Jobseekers may also file applications and submit the requirements to their selected agency online.
"We are inviting fresh graduates, first time jobseekers, and other interested applicants to participate in this year's GOCF. Organized as part of the celebration of the 123rd Philippine Civil Service Anniversary (PCSA), this online job fair serves as a perfect venue for civil service eligibles from all over the country to apply for vacant positions in the government," CSC chairperson Karlo Nograles said in a statement.
He also emphasized that the CSC highly encourages applications from interested and qualified Filipino citizens, including persons with disabilities, members of indigenous communities, and those identifying with diverse sexual orientations, gender identities and expressions.
For application purposes, it is essential that the jobseeker possesses a JobStreet account.
Should the jobseeker not have an existing account, the individual is required to generate one by accessing JobStreet.com.ph and selecting the "Sign Up FREE Now" link available on the MyJobStreet webpage.
Upon creating an account, jobseekers are also advised to accomplish the downloadable Personal Data Sheet (PDS) available in the CSC Website (https://csc.gov.ph/downloads/forms) and have it available for upload during the GOCF week.
On the actual GOCF Week, jobseekers can access information about participating government agencies and their available job positions by utilizing the dedicated GOCF link featured on the JobStreet website.
To apply, candidates can simply click the "Apply" button included within the agency's listing. After submission, the respective partner agency will conduct an initial assessment and subsequently inform applicants about their application status, along with any further instructions or requirements, through email or text message.
Nograles reminded jobseekers to be mindful of the qualification standards and competencies required for each position, as eligibility is not the sole requirement for appointment.
"For the past three years, GOCF has provided a fast, accessible, and efficient way to increase the pool of efficient and qualified individuals in the civil service. We are once again looking forward to having new government employees that will be part of the 1.9 million civil servants working toward national development," he said.
To know more about the mechanics of the GOCF, jobseekers may visit the CSC Website (www.csc.gov.ph) and click the 2023 Government Online Career Fair (GOCF) banner. (PNA)