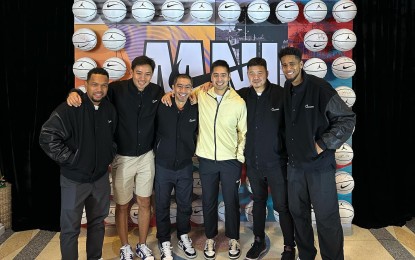 NASUGBU, Batangas – Newly appointed Gilas Pilipinas assistant coach LA Tenorio on Thursday vowed on behalf of the national team to deliver their best performance in the 19th Asian Games firing off Sept. 23 in Hangzhou, China.
Tenorio, who is also a FIBA World Cup 2023 ambassador, told the Philippine News Agency (PNA) in a teleconference interview that the team recognizes how much Filipino sports fans, and the nation in general, want them to win.
"Nobody wants to lose, so the important thing is to focus on the goal and have the right mindset," he said.
The 39-year-old Philippine Basketball Association veteran guard urged fans to look beyond recent debacles and unite behind the national team.
Gilas Pilipinas has been drawn with Jordan, Thailand and Bahrain in the group stage.
"May this be a good time for us to unite and support the national team. Win or lose, let us support Gilas Pilipinas, especially when we are losing," he said.
Tim Cone, the PBA's winningest coach with 25 titles, was named Gilas head coach in the Asian Games in lieu of Chot Reyes who has decided to "step aside" after the Philippines' woeful 1-4 stint in the ongoing World Cup.
Aside from Tenorio, Richard del Rosario and longtime Gilas deputy coaches Josh Reyes and Jong Uichico will assist Cone.
The team will take on Bahrain, Thailand and Jordan on Sept. 26, 28, and 30, respectively, in the preliminary round.
In Indonesia in 2018, Jordan Clarkson and the core of Rain Or Shine led Gilas Pilipinas to a fifth-place finish.
Tenorio said the players must have the mentality to compete at the highest level and challenge themselves.
However, he called on the fans to manage their expectations considering that there is limited time to prepare following the FIBA World Cup
"We already have the pieces of the puzzle, and it is just a matter of putting it together in a long period of time. If your pieces are scattered, we will not be able to see how beautiful your image is," said Tenorio, known as the PBA's "Iron Man" with a record 744 consecutive games in 17 years.
He said enough preparation will remain the key to winning games in international competitions.
The Batangas native, who is battling colon cancer, has just completed his final chemotherapy session in Singapore.
He hopes to suit up anew for Barangay Ginebra when the PBA resumes in October.
"I will also check when I can play my first game because I've been out for six months and I do not want to push my body to the limit as well," he said. (PNA)