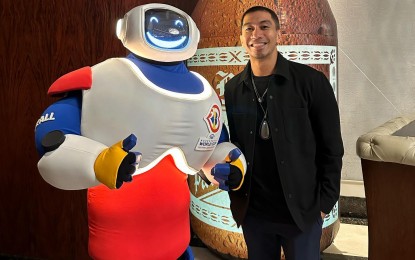 NASUGBU, Batangas – FIBA World Cup 2023 Ambassador LA Tenorio is positive that the national team can perform well as it begins its campaign on Friday on basketball's biggest stage to be co-hosted by the country with Japan and Indonesia.
Tenorio, who played in the FIBA World Cup 2014 as a starting point guard, told the Philippine News Agency (PNA) in a telephone interview on Wednesday that he is hopeful the Gilas Pilipinas can match the basketball powerhouse teams around the world.
"I hope they can surpass what we did in 2014, which is not impossible. It is more within their reach compared to us before," he said.
He revealed that while it is the most talented team ever formed, the challenge will be the game itself to know the degree of preparation and capacity to compete.
The team must not just rely on NBA star Jordan Clarkson and big man Kai Sotto, according to Tenorio.
The Batangas native said "whoever plays must be ready" because the country is also playing against the best players of the best teams in the world.
"I was there as a role player but I was always ready," said Tenorio.
In 2014 held in Spain, the Philippines placed 21st overall out of 24 teams. Its four losses were by an average of 5.75 only and it beat Senegal in overtime, 81-79.
In 2019 in China, the country placed last in the expanded 32-team field.
Meanwhile, he said Japeth Aguilar is deserving to be named team captain with his capability to produce good numbers and with his consistent World Cup experiences in 2014 and 2019.
The Philippines will attempt to break the gate attendance record of 32,616 when USA beat Russia in the 1994 finals held in Canada as the tournament unfolds on Aug. 25 at the 55,000-seater Philippine Arena in Bocaue, Bulacan.
The arena's current record is 54,589 established during Game 7 of the Philippine Basketball Association's (PBA) Commissioner's Cup finals won by Barangay Ginebra San Miguel against the visiting Bay Area Dragons in January.
Gilas Pilipinas has been drawn with Italy, Dominican Republic and Angola in Group A of the first-round competitions of the Cup that will dangle seven slots to the 2024 Paris Olympics, including one from Asia.
Tenorio, known as the PBA's "Iron Man" because of a record 744 consecutive games in 17 years, is urging the public to support the final lineup and the entire campaign whatever the results may be.
He added that he is set for an October return after taking a hiatus from the PBA since he revealed his battle with Stage 3 colon cancer in March this year.
Tenorio is currently in Singapore for the final phase of his chemotherapy sessions and is expected to be back in the country before the tournament begins.
"The treatment is doing well; this is my 11th session out of 12. Just a series of tests, and I have the go signal to play," he shared. (PNA)