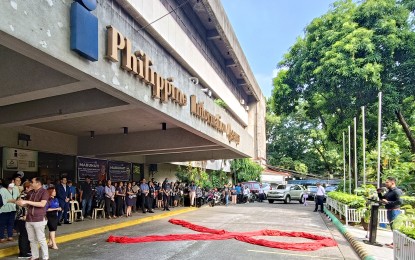 MANILA – The Philippine National AIDS Council (PNAC) on Friday launched its first HIV summit, seeking to foster collaboration in tackling the disease and confronting related discrimination.
"We have the seven medium-term plan and we have a target of 95-95-95 – that is our scorecard, and we also have the five strategy pillars. These are prevent, treat, protect, strengthen, and sustain," Department of Health (DOH) Undersecretary Maria Francia Laxamana said in her speech.
With this plan and strategies, the PNAC aims to diagnose 95 percent of individuals with the human immunodeficiency virus, provide anti-retroviral therapy to 95 percent of the HIV-positive individuals, and achieve virus suppression for 95 percent of those being treated.
These targets could be achieved through innovation and an increase in access to information and treatments, especially through digital platforms, Laxamana said.
DOH - Epidemiology Bureau Supervising Health Program Officer Noel Palaypayon estimated that Filipinos living with HIV could reach 189,000 by the end of 2023 and it is projected to double in the coming years.
"The number of newly diagnosed cases over the years increased from six newly diagnosed cases per day in 2011 to 49 cases per day in 2022," he said.
Most of these cases are among the key populations – men having sex with men, sex workers, people who inject drugs, and transgender women.
"In 2023, 89 percent of the new infections are among men having sex with men. Almost half is among the young key populations or the youth, ages 15 to 22 years old," Palaypayon said.
"In terms of geographical location, most of the estimated PLHIV (people living with HIV) are among the residents of the greater Manila (area), the National Capital Region, Region 4-A (Calabarzon), and Region 3 (Central Luzon). However, there are also places outside the greater Manila with high burden, such as Cebu City and Davao City."
Laxamana said instead of focusing on the statistics and the barriers, national government agencies, development partners, non-government organizations, and civil society organizations should help save lives by sharing important knowledge about the disease and its treatment.
Meanwhile, Dangerous Drugs Board Chair, Secretary Catalino Cuy, said they fully support PNAC's commitment to a multisectoral approach for the prevention of AIDS and treatment and care for PLHIVs.
"Along with other agencies, we will focus on crafting and promoting effective strategies that foster [inclusivity] and eliminate stigma among HIV patients, just like what we do in the recovery of persons who use drugs," he added. (PNA)