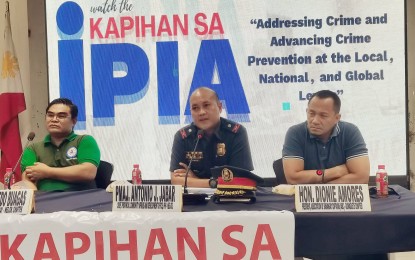 DUMAGUETE CITY – Intensified anti-criminality operations in Negros Oriental have led to the arrest of over 3,000 suspects during the first three quarters of the year.
At the Kapihan sa PIA forum Thursday, Maj. Antonio Jabar, chief of the Police Community Affairs and Development Unit (PCADU) of the Negros Oriental Police Provincial Office (NOPPO), said that while this year's crime incidence went up by over 15 percent from January to September compared to the same period last year, police accomplishment was notably high.
Jabar said 3,840 crime incidents were recorded from January to September this year compared to last year's 3,312, an increase of 528.
With the intensified anti-criminality campaign, the police seized PHP26.6 million worth of suspected shabu (more than 3,916 grams) and marijuana (48.6 grams) with 320 drug personalities arrested.
A total of 794 illegal firearms were seized or confiscated that also led to the arrest of 52 persons, while 693 operations were conducted against illegal gambling that arrested 1,529 persons, he said.
These are the priority concerns of the NOPPO's anti-criminality campaign, he added.
On the campaign against wanted persons, a total of 1,765 personalities were arrested with 140 of them tagged as Most Wanted Persons.
Police interventions included checkpoint operations, foot patrol, mobile patrol, Oplan Bakal Sita, apprehension of traffic violators and motorcycle patrol.
Meanwhile, investigation is still ongoing in the latest shooting incident in Negros Oriental.
A report from the NOPPO said that two men were shot at around 12:45 a.m. Thursday in Barangay Tabuc-tubig in this capital city.
They were identified as Sherwin Visitation, 45, a mechanic and resident of Boloc-Boloc, Sibulan, Negros Oriental; and his helper, Joemar Ablao Templo, 37, a resident of the same place.
Initial investigation showed that two unidentified suspects on board a motorcycle showed up at the Bykes Motorshop where the two victims were working, and shot them.
They were rushed to the Silliman University Medical Center here with Visitation in critical condition.
A motive for the shooting incident has yet to be determined. (PNA)