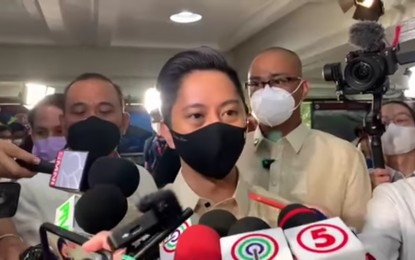 MANILA - A measure providing financial literacy and entrepreneurship programs for workers to help them cope with rising prices of basic commodities has been filed at the House of Representatives.
House Senior Deputy Majority Leader and Ilocos Norte 1st District Rep. Ferdinand Alexander "Sandro" Marcos filed House Bill (HB) 8989, or the proposed "Financial Literacy for Workers' Act," which aims to empower workers to generate more income and ultimately lead a life of economic and financial freedom.
"At a time of continuously rising prices, the prevalence of financial scams, and also predatory loans, there is a need to empower employees with financial literacy programs that will include debt management, savings and investment, insurance and retirement planning, so as to avoid indigency," he said.
Marcos said among the challenges to developing entrepreneurial skills include a lack of adequate knowledge of financial management, high cost of doing business, lack of access to finance and market information, and low productivity and competitiveness due to the lack of economic capacity.
"Through better awareness and understanding of how money works and how to handle it responsibly, people are equipped to reach their financial goals, especially financial stability and prosperity," he said.
Under HB 8989, employers would be required to provide financial literacy and entrepreneurship programs to employees.
It provides that the Secretary of the Department Labor and Employment (DOLE) shall award loans and grants, on a competitive basis, to eligible entities to provide financial literacy and entrepreneurship programs to workers.
The DOLE Secretary may make available to deserving "working entrepreneurs," assistance in the form of grants or loans, to provide for the initial launch of their small or medium enterprises.
The proposed measure defines working entrepreneurs as individuals who are employed and engaged in the operations or management of micro, small or medium enterprises.
An eligible entity or entrepreneur that desires to receive a grant or a loan should submit an application to the DOLE Secretary accompanied by an itemized budget and other data as required.
The bill is currently pending at the House Committee on Labor and Employment. (PNA)