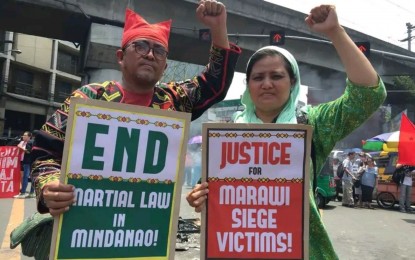 CEBU CITY – One of the six New People's Army (NPA) rebels killed in one of the encounters in Bilar, Bohol on Sept. 7 was a ranking official of an organization responsible for the mass protests involving indigenous peoples in Mindanao and Metro Manila, the commander of the Visayas Command (Viscom) said Saturday.
Lt. Gen. Benedict Arevalo identified Kerlan Fanagel, with an address in Barangay Poblacion in Malapatan, Sarangani province, as a member of the Regional Urban Committee of the NPA's Southern Mindanao Regional Command.
He also chaired the Pasakaday Salugpongan Kalimudan (PASAKA)/ Confederation of Lumad Organization in the Southern Mindanao Region.
Fanagel was previously identified as Rogelio Jorillo from Minglanilla, Cebu based on the office ID recovered from his belongings.
His real identity has been ascertained only after further verification and consultation with former rebels, Arevalo said.
"This is a clear manifestation of the deceptive tactics employed by the CPP (Communist Party of the Philippines) - NPA. They infiltrate different sectors in our community to include our Indigenous Peoples, organize them, and use them to go against the government," Arevalo said in a statement.
Aside from being the chair of PASAKA, Fanagel was also a member of a national IP organization called KATRIBU, KALUMARAN Mindanao and SANDUGO, an alliance of Moro and IP organizations.
"The presence of Fanagel here in the Visayas validates our assessment that the CPP-NPA is exerting efforts to recover their lost mass bases in the region, which was cleared from NPA infestation by our community support program teams with the support of the local task force to end local communist armed conflict," Arevalo added.
Fanagel's remains were claimed by his brother from the Baguio Funeral Homes in Carmen, Bohol on Sept. 12. (PNA)