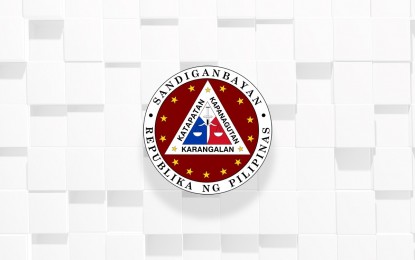 MANILA – The Sandiganbayan has sentenced five individuals, including a staff member of the late Negros Oriental 3rd District congressman Herminio Teves, to up to 28 years for the anomalous use of PHP10 million in Priority Development Assistance Fund (PDAF) intended for livelihood programs but was diverted to ghost projects in 2007.
Hiram Diday Pulido, Teves' former chief of staff; former Technology and Livelihood Resource Center (TLRC) officials Dennis Cunanan (deputy director general), Marivic Jover (chief accountant) and Belina Concepcion (legislative liaison); and private individual Samuel Bombeo of Molugan Foundation Inc. (MFI) were found guilty of graft and malversation of public funds, according to a 68-page decision on Sept. 15 and made public Monday.
MFI, an uncredited and unqualified non-government organization (NGO), was tapped as implementing project partner on Feb. 27, 2007 by Teves's office for the purported projects.
They were sentenced to a prison term of six to 10 years and perpetual disqualification to hold public office for graft.
For malversation, they got 12 to 18 years and were ordered to indemnify the government PHP9.6 million with six percent annual interest until fully paid.
Teves' case was dismissed following his death in 2019 while former TLRC department manager Francisco Figura was acquitted.
The case against former TLRC director general Antonio Ortiz is archived pending his arrest or surrender.
The Sandigan decision said the endorsement of MFI was done in total disregard of the appropriation law and against the provisions of Republic Act No. 9184, or the Government Procurement Reform Act.
Bombeo received PHP9.6 million while the TLRC received PHP400,000 as service fee, all from Teves' PDAF.
"TLRC, to which the PDAF of Teves was released, should have implemented the livelihood project as it was the implementing agency specifically indicated in the GAA (General Appropriations Act). The transfer of the funds from TLRC to MFI is therefore in violation of the 2007 GAA," the Sandigan ruled.
The PDAF should be directly released to the implementing agency but in this case, TLRC transferred the funds to MFI.
The court said the four officials and Bombeo clearly conspired to implement the supposed livelihood project sans accreditation and legal basis.
"Were it not for their consent and participation, the funds would not have been disbursed and released to MFI, through Bombeo," the court said.
The Commission on Audit found out that no public bidding was conducted and that the NGO's place of incorporation and the whereabouts of its incorporators yielded negative results.
Teves countered then that the "signatures appearing in various documents linking him to the transactions are products of forgery."
The Ombudsman dismissed his defense, saying that "forgery is not presumed; it must be proved by clear, positive and convincing evidence and the burden of proof lies on the party alleging forgery as mere variance of the signatures in different documents cannot be considered as conclusive proof that one is forged." (PNA)