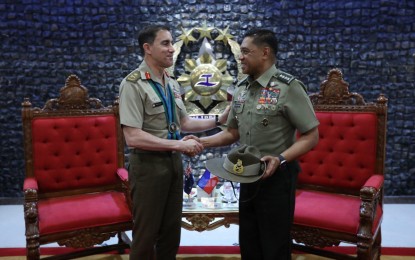 MANILA – Ranking military officials of the Philippines and Australia on Monday discussed ways to further improve areas of cooperation between the two countries.
This came as Australian Army chief Lt. Gen. Simon Stuart paid a courtesy call to Armed Forces of the Philippines (AFP) chief of staff Gen. Romeo Brawner Jr. in Camp Aguinaldo, Quezon City.
Among areas of cooperation tackled by the two officials are bilateral military partnerships, including training, student exchanges, reservist development, non-commissioned officer empowerment, and recruitment.
"We are very thankful for the support we are getting from Australia. Not just intelligence and technical support, but also more now in terms of training and exercises," Brawner said in a statement.
Brawner also recalled the support provided by Australia during the Marawi siege from an existing Memorandum of Understanding to Combat International Terrorism.
The Philippines and Australia also currently have a partnership on training and exchanges signed in 1995 and a status of Visiting Forces Agreement has also been in effect between the two nations since 2007.
From Aug. 14 to 31, the AFP and the Australian Defense Force conducted the first-ever bilateral amphibious exercise between the two services dubbed "Exercise Alon" which focused on enhancing interoperability between participating military units.
"Exercise Alon" includes an air assault exercise in Palawan on Aug. 21, combined amphibious assault exercise in Zambales on Aug. 25, and live-fire training as the final phase in Capas, Tarlac on Aug. 31. (PNA)