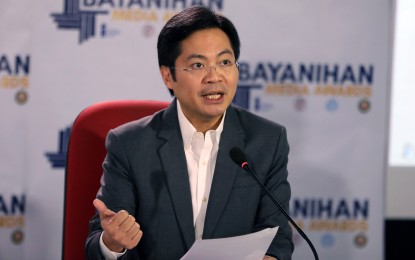 MANILA – The Civil Service Commission (CSC) called on career scientists to advance the level of science and technology (S&T) and innovation to build a stronger and better nation.
"To all our scientists, always remember that your service to our kababayans (countrymen) and your contributions to your respective fields are foundations by which we build a stronger and better nation. As a government career scientist, it falls on your shoulders to advance the level of S&T and innovation in the country and guide the policies by which we draft our laws and programs across all areas of development," CSC chairperson Karlo Nograles said in a statement issued on Tuesday.
This came after the oathtaking of 11 newly conferred and three upgraded career scientists at the Prime Hotel in Quezon City on Sept. 13.
They were products of the Scientific Career System (SCS) – the system of recruitment, career progression, recognition and reward of scientists in the public service, as a means of developing a pool of highly qualified and productive scientific personnel.
The establishment of the SCS within the Civil Service was first formalized through Executive Order (EO) 784, issued on March 17, 1982, by President Ferdinand E. Marcos Sr.
On Feb. 20, President Ferdinand R. Marcos Jr. issued EO 17 revising the implementing rules and regulations (IRR) of the SCS "to effectively respond to the evolving needs of the country's science and technology human resources in government service."
The SCS will apply to scientific personnel with master's and doctoral degrees in sciences who are directly involved in research and development, covering biological sciences, engineering and technology, mathematical and physical sciences, health and agricultural sciences, as well as all scientific disciplines determined by the Scientific Career Council (SCC).
The SCC is composed of the chairperson of the CSC as ex-officio chairperson, the secretary of the Department of Science and Technology (DOST) as ex-officio co-chairperson and other ex-officio members.
As co-chair of the SCC, Nograles pledged to continue supporting and encouraging the advancement of science and technology by fulfilling the responsibilities and functions vested in the CSC to develop and administer continuing programs and training and development for all scientific personnel in the government service.
"I have full confidence that career scientists will persist in their efforts to enhance public well-being and promote the nation's growth through science and technology," he said.
The 11 newly conferred scientists are Career Scientist II Jordan F. Madrid, Ph.D. and Career Scientist I Alvie A. Astronomo, Ph.D. from DOST - Philippine Nuclear Research Institute (PNRI); Career Scientist I Juanito P. Jimenez Jr., Ph.D. from DOST- Forest Products Research and Development Institute; and Career Scientist I Melissa P. Montecalvo, MSc, from the University of the Philippines Los Baños (UPLB) National Crop Protection Center.
Also included are Career Scientist I Rodney H. Perez, Ph.D. from the UPLB National Institute of Molecular Biology and Biotechnology; Career Scientists I Jazelyn M. Salvador, MSc, and Joy Ann P. Santos, MSc from the University of the Philippines Diliman (UPD) Natural Sciences Research Institute; and Career Scientist I Rene C. Santiago, DVM, MSc from Department of Agriculture (DA) - Bureau of Animal Industry.
Three scientists from DA - Philippine Center for Postharvest Development and Mechanization (PhilMech) were also conferred, namely Career Scientists I Ma. Cecilia R. Antolin, Ph.D., Rodelio G. Idago, Ph.D., and Andres M. Tuates, Jr., Ph.D.
The three newly upgraded scientists are Career Scientist II Fe M. dela Cueva, Ph.D. from UPLB Institute of Plant Breeding; Career Scientist II Danilda Hufana-Duran, Ph.D. from DA Philippine Carabao Center; and Career Scientist II Manuel Jose C. Regalado, Ph.D. from DA Philippine Rice Research Institute.
Those granted the status of SCS scientists will receive various benefits, including salary differentials corresponding to their scientist rank, entitlements under Republic Act 8439 (The Magna Carta for Scientists, Engineers, Researchers and Other S&T Personnel in the Government), representation and travel allowances, exemption from bundy clock usage, and access to SCS-funded grants, such as those for foreign travel, publication assistance, and membership fees for international scientific organizations. (PNA)