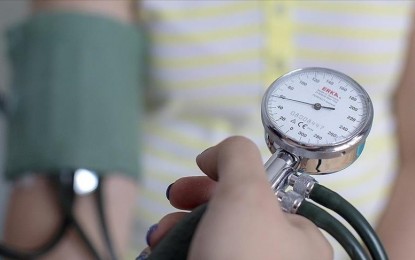 GENEVA – The global impact of high blood pressure affects four out of five people when "not adequately treated," said a report published by the World Health Organization (WHO) on Tuesday, adding that the risk could be averted if countries scale up coverage.
The first-ever report on the global impact of hypertension said: "An increase in the number of patients effectively treated for hypertension to levels observed in high-performing countries could prevent 76 million deaths, 120 million strokes, 79 million heart attacks, and 17 million cases of heart failure between now and 2050."
Affordable, safe, accessible medicines and other interventions, such as sodium reduction, can help prevent most heart attacks and strokes worldwide.
Michael Bloomberg, the WHO global ambassador for noncommunicable diseases and injuries, said: "Treating hypertension through primary health care will save lives while also saving billions of dollars a year."
Hypertension impacts one in three adults worldwide, posing a significant threat to their health by increasing the risk of stroke, heart attack, heart failure, kidney damage and other related diseases.
According to the report, the number of individuals affected by hypertension has risen considerably, doubling from 650 million in 1990 to 1.3 billion in 2019. Nearly half of those affected worldwide are unaware of high blood pressure, and over three-quarters of adults with hypertension live in low- and middle-income nations.
Countries are urged to prioritize prevention, early detection and efficient management of hypertension as part of their national health benefit package at the primary care level.
"Hypertension can be controlled effectively with simple, low-cost medication regimens, and yet only about one in five people with hypertension have controlled it," said WHO Director-General Tedros Adhanom Ghebreyesus in the report.
"Hypertension control programs remain neglected, under-prioritized and vastly underfunded," Tedros added. "Strengthening hypertension control must be part of every country's journey towards universal health coverage, based on well-functioning, equitable and resilient health systems, built on a foundation of primary health care." (Anadolu)