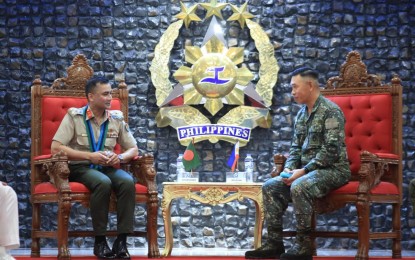 MANILA – The Philippines and Bangladesh are looking to expand cooperation through education and training as part of efforts to ensure peace in the Indo-Pacific Region, the Armed Forces of the Philippines (AFP) said on Thursday.
"We are planning to establish our defense cooperation and our shared responsibility through education and training in pursuit of a more stable Indo-Pacific," AFP deputy chief of staff for education, training and doctrine Maj. Gen. Noel Beleran said in a statement.
This came following the visit of Brig. Gen. Kazi Kazi Anisuzzaman of Directing Staff Army-6 of the National Defense College of Bangladesh to the AFP headquarters at Camp Aguinaldo, Quezon City on Wednesday.
Beleran also discussed AFP's courses and exchange programs as well as the plans to continue working with allies in terms of education and training.
Meanwhile, Anisuzzaman also shared the challenges and goals that they have in Bangladesh.
"We need you and we need our brothers beside us. We value your country," Anisuzzaman said as he expressed his hopes of "increasing connectivity" with partner nations.
The National Defense College of Bangladesh is currently on its study tour in the Philippines and intends to share and exchange views on both countries' challenges and development strategies. (PNA)