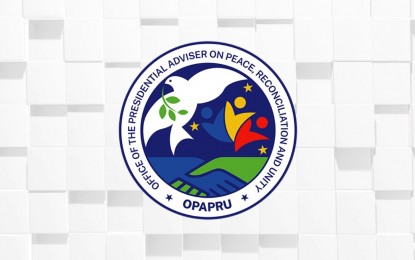 MANILA – The Office of the Presidential Adviser on Peace, Reconciliation and Unity (OPAPRU) on Thursday touted the unification of two Moro National Liberation Front (MNLF) groups as one of the many milestones in the country's peace process.
"With (Secretary Carlito ) Galvez (Jr.) at the helm of the OPAPRU, it helped reunite the Misuari and Sema groups of the MNLF after decades of separation, which is considered a landmark development under the Bangsamoro peace process," the agency said in a statement during the celebration of its 30th anniversary.
The OPAPRU earlier accepted the role of helping the two MNLF groups in its convergence efforts.
This agreement was contained in a resolution signed by Galvez and Bangsamoro Labor and Employment Minister Muslimin Sema, who is also MNLF chairperson.
In a resolution, the MNLF Sema Group said it is "amenable to pursue convergence efforts with the MNLF group under the leadership of Chair Nur Misuari."
"The OPAPRU shall facilitate the discussion on convergence between the MNLF Groups. As a vehicle for convergence, a Joint MNLF Executive Committee shall be established to be represented by leaders of the two MNLF Groups that shall provide policy guidance on convergence efforts," it added.
It noted that the current partnership between the government and the MNLF-Sema group would be "renamed into GPH-MNLF Coordinating and Implementing Committee."
The OPAPRU also said it has played a key role in establishing an inclusive Bangsamoro Transition Authority.
The agency also assisted in the rebuilding of Marawi City and implemented social healing interventions for the victims of the siege.
To date, the OPAPRU is implementing the political and normalization tracks of the Comprehensive Agreement on the Bangsamoro (CAB), which is a testament to the strong partnership between the national government and the Moro Islamic Liberation Front (MILF).
Under the Normalization Program, around 65 percent of the 40,000 MILF combatants have been decommissioned.
Meanwhile, the agency said it continues to roll out projects under its PAyapa at MAsaganang PamayaNAn (PAMANA) Program aimed at improving the access of residents to much-needed socio-economic interventions, and empower communities and strengthen their capacities to address issues of conflict and peace.
It said a total of 21,914 projects which cover agricultural productivity support, agri-fishery, capacity building, natural resource management, community infrastructure, electrification, water system, flood control, and health centers have been completed under the PAMANA Program.
The program, which is anchored on conflict-sensitive and peacebuilding approaches, has 2,585 ongoing projects nationwide. (PNA)