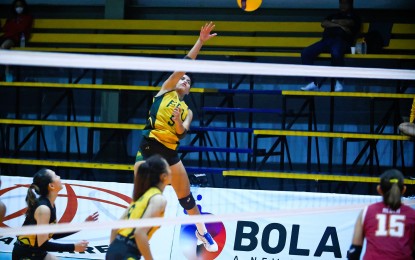 MANILA – Opposite hitter Chenie Tagaod sizzled with 25 points as Far Eastern University outplayed University of Perpetual Help, 23-25, 25-23, 25-17, 25-13, on Friday to extend their semifinal series in the 2023 V-League Women's Collegiate Challenge at the Paco Arena in Manila.
Three other players produced double-digit scores for the Lady Stags, who recovered from a first-set loss to win the match in one hour and 56 minutes and force a winner-take-all Game 3 on Sunday.
"We were prepared for this win; we reviewed our mistakes from the last game. The ladies regained their momentum in playing, which is why we achieved this comeback," said FEU interim head coach Manolo Refugia.
Outside hitter Keisha Dazzie Bedonia chipped in 16 points, 14 on attacks; middle blocker Mitzi Panangin scored 14 points, including five blocks; and opposite hitter Faida Bakanke contributed 11 points.
Christine Ubalde also played well, scoring nine points, including six blocks, as well as making 18 excellent sets.
Outside hitter Mary Rhose Dapol led the Lady Altas with 15 attacks, while Charmaine Mae Ocado and Shaila Allaine Omipon added nine and eight points, respectively.
Razel Paula Aldea made three blocks and setter Jhasmine Sapin had three service aces and two blocks.
Omipon scored 20 points, all on attacks, when Perpetual triumphed, 25-21, 28-26, 26-24, in Game 1 last Wednesday. (PNA)