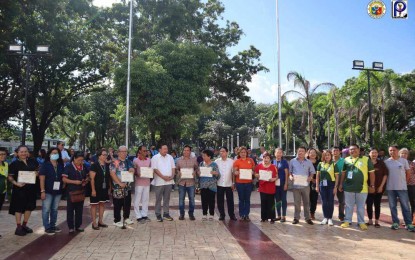 ILOILO CITY – This city has the highest percentage of barangays that have achieved a zero open defecation (ZOD) status among highly urbanized cities (HUCs), with 92 out of its 180 villages already observing the sanitation practice.
Chief sanitation inspector Rudy Catahay said the Department of Health (DOH), during a recent seminar held in Boracay, noted that Iloilo City has the highest ZOD-compliant barangays.
However, verified and validated data on the ZOD status of barangays in other HUCs was not available.
"Most of our validated and verified barangays have their septic tank or toilets," Catahay said in an interview.
The city government, through its health office, recognized an additional 20 barangays for being ZOD-compliant during the regular flag-raising ceremony on Monday, which increased to 92 the number of villages observing the sanitation practice.
The ZOD compliance is pursuant to DOH Administrative Order 2010-0021, dated June 25, 2010, making sustainable sanitation a national policy and national priority program of the department, Catahay said.
He recalled that five years ago, the local government provided free toilet bowls to over 800 households in the city.
Currently, barangay officials are providing their constituents with materials for their septic tanks.
The city government, through its sanitation inspectors, conducted a house-to-house inspection to determine those with no toilets.
In a separate interview, Mayor Jerry Treñas said the city government targets to reach 80 percent of the barangays on ZOD compliance.
"Our plan next year is to establish communal facilities, communal toilets to help them," Treñas said, referring to coastal areas with no toilets.
Catahay said the number of households along coastal areas with no toilets has decreased since the city government relocated some of those living along the shorelines and riverbanks. (PNA)