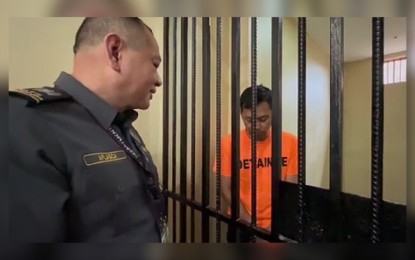 MANILA – The administrator of the Office for Transportation Security (OTS), Undersecretary Ma. O Aplasca, said Tuesday he had done nothing wrong for House of Representatives Speaker Martin Romualdez to demand his resignation over a series of alleged theft among airport screening personnel.
Saying he takes full responsibility for the OTS, Aplasca said he will discuss the matter with Transportation Secretary Jaime Bautista and President Ferdinand R. Marcos Jr. The OTS is an attached agency of the DOTr.
"I have done nothing wrong but to cleanse our office with corrupt officials. Why am I now being attacked? For going after corrupt officials? I think it should be the other way around. The corrupt officials should instead be asked to resign," Aplasca said in a statement.
"The case involving stealing of the 300 US dollar bills is still being resolved, mauna pa mawala 'yung mga nag-imbestiga (The one who initiated the investigation would be the first to get axed). There must be something wrong somewhere," he added.
Earlier, Romualdez said he wanted Aplasca's courtesy resignation before Congress tackles OTS' 2024 budget, adding that he would block the budget approval if the OTS head would not quit.
Romualdez's call came a week after the OTS acknowledged that a security screening officer got involved in an alleged theft at the Ninoy Aquino International Airport.
CCTV footage of the concerned personnel seemingly trying to swallow the supposed dollar bills went viral last week.
"However, I will not allow anyone to humiliate me and allow any wrong information to thrive because of how unjust it is to the good men and women of OTS who tirelessly dedicate their hard work to serve the public everyday," he said.
'Systemic, cultural'
The OTS admitted that the problems hounding the agency are "systemic and cultural, which calls for both short-term and long-term initiatives".
READ: DOTr chief wants 'maximum' penalty vs. OTS personnel
Several proposed measures have been filed in both houses of Congress for the passage of a law creating OTS as "a more stable organization", as well as request for the enhancement of salary grade of personnel under deliberation at the Department of Budget and Management as a priority initiative.
The OTS also mentioned initiatives such as enhanced internal cleansing programs, enhanced training programs covering values formation and moral recovery, and programs to recognize honest and hard-working personnel.
Aplasca said the OTS has solved anomalies in the recruitment of applicants and also addressed the irregularities in the promotion and placement of employees.
At least 11 personnel have been dismissed out of the 68 administrative cases investigated during Aplasca's term, the OTS statement added.
Better vetting of personnel
Senator Ronald Dela Rosa, meanwhile urged the Department of Transportation (DOTr) and OTS to strengthen their vetting process when hiring personnel, instead of increasing their salaries or making them regular employees.
During Tuesday's deliberation of the proposed 2024 budget of the DOTr and its attached agencies, Dela Rosa cited the case of the Philippine National Police (PNP), whose members and officials' salaries were doubled during the time of former President Rodrigo Duterte, but some still chose to engage in illegal activities.
DOTr Secretary Jaime Bautista said they are considering regularizing OTS personnel, who are mostly employed under contract of service or job order status, thus their low salaries and no security of tenure.
Dela Rosa said it may not be the solution.
"Siguro 'yung vetting, Sir. Kahit na napakababa ang sweldo, kahit na hindi sila regular ha, contractual lang, pero kung i-vet niyo properly 'yan, marami pa ring mag-a-apply (Maybe the vetting, Sir. Even with little salary, even if they are not regular employees, only contractual, but if you vet them properly, a lot will still apply)," dela Rosa told Bautista.
Bautista assured OTS personnel are undergoing training, but admitted the existence of "some bad eggs."
Dela Rosa clarified that he is not blaming the OTS leadership as he trusts the integrity of both Aplasca and his deputy, Jose Briones.
"The OTS people, malaki ang respeto ko dito dahil mga classmate ko to sa PMA [Philippine Military Academy]. 'Yung General Aplasca and General Briones matataas 'yung ano nila, integrity (I have big respect for them because they are my classmates in the PMA. General Aplasca and General Briones have high integrity). We are not blaming you. They were there already before you assumed," Dela Rosa said.
"Siguruhin lang natin na matinong tao 'yung nakukuha natin kahit mababa 'yung sweldo (We just have to make sure that we hire the good people even with low salaries)," he added.
Briones told senators that OTS screeners, who are hired directly, receive PHP16,000 per month. (with report from Wilnard Bacelonia/PNA)