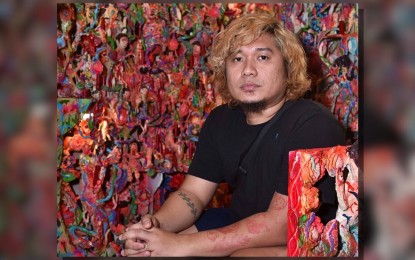 MANILA – The Ateneo Gallery (AAG) on Tuesday announced the winners of the Ateneo Art Awards (AAA) 2023, as part of enduring efforts to give recognition to contemporary artists and art writers.
This year, seven artists and writers were awarded under the 2023 Fernando Zóbel Prizes for Visual Art, and Purita Kalaw-Ledesma (PKL) Prizes in Art Criticism
Four artists were selected out of 12 shortlisted candidates for the Fernando Zóbel Prizes for Visual Art, the AAG announced in a statement.
The four include Doktor Karayom for "Sariling Sulok," Luis Antonio Santos for "Threshold," Tekla Tamoria for "Kiliti Ng Taong Nakaupo Sa May Tabi," and Vien Valencia for "Your Age, My Age, and the Age of the River."
The winners were also selected for local and foreign residency grants funded by the Ateneo Art Gallery and its residency partners, according to AAG marketing and communications officer Anatalia Rio Soriano.
Doktor Karayom took home a total of four residency grants from Liverpool Hope University, La Trobe University, Project Space Pilipinas, and OCAD University, AAG's latest residency partner.
Santos received the Casa San Miguel Residency Grant, Tamoria bagged the No Space Residency Grant, and Valencia took home the ABungalow Residency Grant.
Meanwhile, for the Purita Kalaw-Ledesma Prizes in Art Criticism, two winners were selected from the English category: Sean Carballo for his essay "Object Impermanence" (The Philippine Star), and Sam Del Castillo for her essay "The Artist as Artificer: Santiago Bose's Self-Made Worlds'' (Asia Pacific Magazine).
For the Filipino category, Noji Bajet was awarded for his essay "Ang Pagong sa Kalye Pergolese," and received the Orange Project Residency Grant.
Soriano said in an interview that the awarding ceremony on Sunday "highlighted the 20th anniversary of the Ateneo Art Awards as well as the 10th anniversary of the PKL Prizes." (PNA)