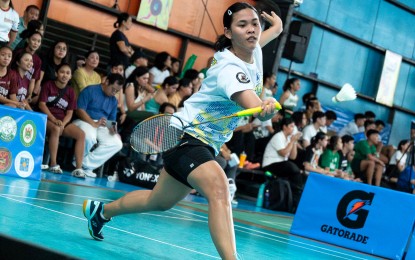 MANILA – National University badminton head coach Jaime Llanes is optimistic that the women's team can perform better in the University Athletic Association of the Philippines (UAAP) Season 86.
Last Sunday, NU survived Season 85 runner-up University of the Philippines, 3-2, at the Centro Atletico Badminton Center to join Ateneo de Manila University on top of the ladder with 2-0 card each.
Ateneo notched its second win at the expense of the University of Santo Tomas, 3-2, in the other game.
Team captain Sarah Barredo saved the day for the Lady Bulldogs, winning her match against Aldreen Concepcion, 21-18, 21-10.
Ysabel Amora rallied past Susmita Ramos, 15-21, 21-8, 22-20, in the opening singles but last year's top rookie Anthea Gonzalez tied the score at 1-1 after prevailing over Karyll Rio, 21-9, 12-21, 21-16, in the second singles match.
The Lady Bulldogs made it 2-1 after Barredo and rookie Lee-Anne De Leon defeated Andrea Abalos and Kimberly Lao, 21-18, 21-12, in the first doubles match. However, the Lady Maroons tied the score at 2-2 when Gonzales and Ramos took the second doubles match over Jeya Pinlac and Gwyneth Desacola, 21-14, 21-19.
"I'm really happy with the performance of the women's team, especially yesterday's (Sunday) game against UP. They showed grittiness and how they handled the pressure knowing that they are the underdog in that game," the 48-year-old Llanes told the Philippine News Agency on Monday.
Unlike the seven-time champion men's team, the women's squad's best effort was third place in the last four seasons.
When asked how the Lady Bulldogs can improve their chances this year, Llanes replied: "They need to have the same determination to win every game and also keep their focus on the game".
"The trainings are the same. I think the difference will be mental and how eager they are to win," said Llanes, who has been handling both men's and women's teams for eight years. His assistant coaches are Kevin Dalisay and Bianca Carlos Dalisay.
NU will be up against UST in the men's and women's division when the competition resumes on Nov. 4.
"We have a big chance in the men's team. We have the No. 1 pair Solomon Padiz Jr. and Julius Villabrille who are currently in the national team and the top singles player. In the women's team, our singles and double players are also strong," said Llanes, a former national athlete. His brother, Melvin, coaches the UP team.
Jaime Llanes was a quarterfinalist in the Malaysian Satellite Circuit in 1997, the same year he won the team bronze medal in the Jakarta SEA Games with Kennevic Asuncion, Ian Piencenaves and Arolas Amahit Jr.
He also coaches the Xavier School team and has established a badminton academy named after him, the Jaime Llanes Training Center in San Juan City. (PNA)