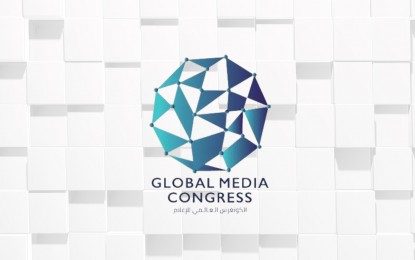 MANILA – Participants to the second edition of the Global Media Congress (GMC) 2023, set on Nov. 14, have surpassed last year's attendance.
Mohammed Jalal Al Rayssi, Director-General of Emirates News Agency (WAM) and chair of the Organizing Committee for GMC said the increasing number of participants goes to show how media, as a tool, continues to play a vital role in connecting people, fostering understanding and driving positive change.
GMC 2023 witnessed a significant surge in exhibiting companies and participating countries, marked by a 33 percent and 22 percent increase respectively, compared to last year's event. The total exhibition area has also expanded by 78 percent, covering at least an additional 14,000 square meters of space at the Abu Dhabi National Exhibition Center (ADNEC).
Al Rayssi said the growing number of participants reflects the trust and credibility that the Congress enjoys, and is considered a valuable platform by companies, decision-makers, and media experts for networking, collaborating, or learning, despite its recent inception.
Humaid Matar Al Dhaheri, Managing Director and CEO of ADNEC Group, meanwhile, said the record-breaking interest in GMC 2023 is a testimony to the regional and global success of this initiative and its growing importance and role in advancing the future of the media sector.
Currently, there are 257 participating companies and 172 countries -- 31 of which are joining the event for the first time.
28th United Nations Climate Change Conference
"In conjunction with COP28, our Congress's opening day will spotlight the pivotal role of environmental media in sustainability and climate advocacy. Day two shifts focus to media education, with a special emphasis on youth engagement," Al Rayssi said. "We're excited to welcome students from 100 universities, equipping them to shape the media landscape."

READ: 2nd GMC to bring in Masscom students from 174 universities
The 28th Conference of the Parties of the United Nations Framework Convention on Climate Change (UNFCCC), more commonly referred to as COP, will take place from Nov. 30 until Dec.12 at Expo City Dubai, United Arab Emirates.
The COP is an annual convention of government representatives, climate experts, thought leaders, and other relevant stakeholders to review the implementation of the Paris Agreement – a legally binding international treaty on climate change1, aiming to hold "the increase in the global average temperature to well below 2°C above pre-industrial levels" and pursue efforts "to limit the temperature increase to 1.5°C above pre-industrial levels."
The Agreement was adopted by 196 Parties at the COP21 in Paris, France, on Dec. 12, 2015, and entered into force on Nov. 4, 2016. (PNA)