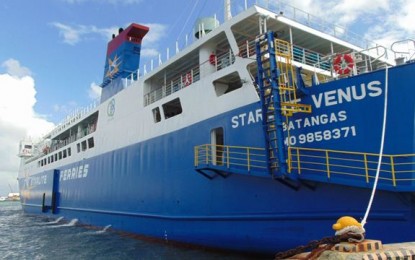 BACOLOD CITY – The opening of direct sea route from Western Visayas, particularly Negros and Panay, to Batangas is expected to cut logistics costs and travel time.
Batangas-based Shipping Starlite Ferries Inc. launched the service of the brand new, roll-on, roll-off (RoRo) M/V Starlite Venus at the Bredco Port here on Sunday to provide an alternative transportation option for logistics companies and travelers going to the Calabarzon (Cavite, Laguna, Batangas, Rizal and Quezon) area.
The vessel travels from Batangas to Bacolod via Iloilo thrice weekly on Tuesday, Thursday and Saturday, and vice versa on Wednesday, Friday and Sunday.
In a statement, Starlite general manager Shane Anthony Arante said the company saw the "urgent need" for passengers to have other options to travel directly to Iloilo and Bacolod through a faster and more convenient travel route.
Previously, the firm's vessel only docked at the Caticlan Jetty Port in Aklan in their route for Western Visayas, requiring cargoes and passengers from other parts of Panay and also from Negros to travel to Aklan to board the Batangas-bound vessel.
"This will cut not only the logistics cost, but also travel time via sea by six hours. We look forward to seeing an improved trade and commerce relationship between Western Visayas and Southern Luzon markets," Arante said.
M/V Starlite Venus, the largest among the Starlite fleets, has a capacity of 688 passengers and mixed rolling cargoes comprised of 28 trucks, buses and private cars.
It has also various accommodation types, including economy bunk beds, tourist bunk beds, cabin rooms, and family rooms.
Starlife ferries is part of the Chelsea Logistics Holdings Company along with cargo and passenger firms Trans-Asia Shipping Lines, 2GO Group, and SuperCat. (PNA)