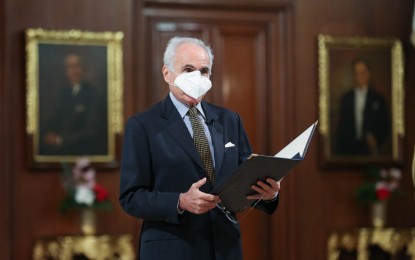 MANILA – President Rodrigo Duterte is seeking to intensify the country's bilateral ties with Brazil in trade and investment, particularly on agriculture, biofuel, and business process outsourcing (BPO).
"Brazil is an old friend and partner of the Philippines. With room for growth in our relationship, the horizon is wide as it is bright," he said when Brazilian Ambassador to Manila Antonio José Maria de Souza e Silva presented his credentials in Malacañang on Feb. 10.
"Let us work together to intensify bilateral trade and investment exchanges during your tenure, especially in agriculture, biofuels, Business Process Outsourcing, and logistics," Duterte told the envoy.
Duterte said the two countries should also work to ensure universal access to the coronavirus disease 2019 vaccines.
"This is a principled position which we should continue to push and demand in all available fora," he said.
Silva assured the President that the Brazilian embassy would do its "utmost to persevere and to strengthen our mutual relations."
"[O]ur common history in those 75 years has brought about many opportunities and many fields of cooperation. We go from agriculture to new sources of energy; we go from science and technology to trade and investments; and from tourism to political --- mutual political dialogue," he said.
Silva added that it was his "personal wish" to be assigned in the Philippines and that he felt "lucky" and "happy" to serve as the new Brazilian envoy in Manila.
Citing the role of Brazil and the Philippines within their respective regional groups, Silva is optimistic the two could also partner to bring closer Southeast Asia and South America.
The Philippines is a member of the Association of Southeast Asian Nations (Asean) while Brazil is part of Mercosur or the Southern Common Market, a South American trade bloc established in 1991. (PNA)