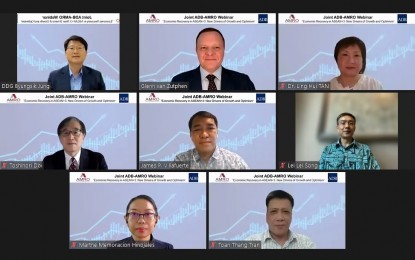 MANILA – The Asian Development Bank (ADB) has identified five key sectors that will propel post-coronavirus disease 2019 (Covid-19) economic growth for Association of Southeast Asian Nations (ASEAN)+3 countries, including the Philippines.
In a joint webinar of the ADB and ASEAN+3 Macroeconomic Research (AMRO) on Friday, ADB Southeast Asia Department senior economist James Villafuerte said the sectors of tourism, agro-processing, garments, electronics, and digital trade will be the new drivers for growth for the 10 ASEAN member states, China, Japan, and South Korea.
Villafuerte said ASEAN+3 countries have to address challenges in these sectors which are already present before the Covid-19 pandemic, while also introducing policies to adopt to the challenges brought by the global health and economic crisis.
In tourism, he cited that major challenges of the sector pre-Covid-19 are structural imbalances, infrastructure gaps, large share of informal employment, and low average spend per tourist.
The ADB recommends that governments in the region should pursue policies that will restore and build new channels of demand, build capacities to support future demand, and increas the resilience of the tourism sector.
Governments in ASEAN+3 countries need to address existing challenges in the agro-processing industry such as the inconsistent supply of raw materials, low level of automation and technological adoption, infrastructure gaps, lack of access to key financing, technologies, and skilled labor, and lack of environmental sustainability and shifting consumer purchasing behaviors.
The policy actions recommended by the ADB include enhancing efficiency and transparency of supply chains, increasing the value-add of the industry, pursuing steps to raise productivity rates, and building industry resilience.
The Philippines—with electronics as its top exported goods—and other countries in the region are urged to address current challenges in the electronics sector. These include the lack of diversification across the electronics supply chain, relatively low economic value-add of stage in value chain and type of electronics produced, disruptive technologies, and rapid changes in electronics technology and consumption trends.
On the other hand, the ADB suggests that countries should upgrade special economic zones with policies that support the industry and develop human capital.
For digital trade, Villafuerte cited pre-pandemic challenges in the region, which include low automation, limited connectivity, low level of digitalization in small and medium enterprises (SMEs), tax base erosion, and risk of respective digital regulation.
This could be addressed by developing an industry roadmap, improving connectivity, supporting skills development, enabling SMEs to go digital, and rethinking digital regulation.
Lastly, the ADB has seen that revitalizing the garments industry will support the ASEAN+3 countries in its post-Covid-19 economic growth.
However, industry challenges that needed to be addressed include a focus on low-value-added products, concentrated supply base of raw materials, poor infrastructure, increasing labor costs, low labor productivity, displacement of jobs due to automation, environmental damage, and improper labor practices.
Among the policy actions that will help the garments industry are improving competitiveness, expanding markets, raising industry resilience, and pursuing more flexible production and business models.
"Covid-19 is both a major disrupter and a catalyst for change," AMRO director Toshinori Doi said. "Continuing to provide supportive policies to alleviate the impact of the pandemic and sustaining recovery remains crucial." (PNA)