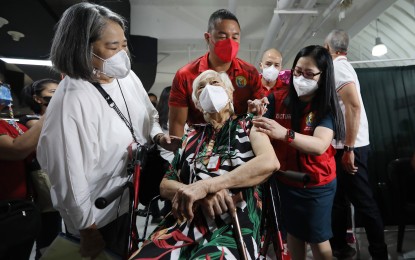 MANILA – Only one out of five Filipinos eligible for a first booster or around 14.85 million have received the needed third dose of Covid-19 vaccine.
The Department of Health (DOH) said Thursday concerned agencies must focus on encouraging more adults to get their first booster shot readily available for them.
This, after presidential adviser for entrepreneurship Joey Concepcion called for the administration of a second booster shot to employees or workers who help keep the economy afloat.
In a Viber message to reporters, the DOH noted that the emergency use authorization (EUA) of the Food and Drug Administration (FDA) allows a second booster or fourth dose only for healthcare workers, senior citizens, and immunocompromised adults.
"This is also what the HTAC (Health Technology Assessment Council) has recommended, and what the DOH through the NVOC [National Vaccination Operations Center] is implementing. A second booster or fourth dose using the currently available vaccines is meant for those who have weaker immune systems that are not providing enough protection from the first booster," the agency said.
Healthcare workers are given the 2nd booster in consideration of their high-risk exposures to patients.
For a vaccine to be deployed, there must be an EUA by FDA, positive recommendation by HTAC, and implementation guidelines by DOH-NVOC.
HTAC considers the best available evidence including the need for a World Health Organization recommendation, as required by Republic Act 11525 or the Covid-19 Vaccination Program Act.
"[The] DOH invites our private sector partners to please help get the jab done by encouraging all employees, store owners, and others to get their first booster," the agency said.
As of June 20, the government has vaccinated 77.85 percent or more than 70 million of its target population.
Around 14.8 million have received their first booster shot and more than 682,000 healthcare workers, senior citizens, immunocompromised and individuals with comorbidities have received their second booster doses.
Meanwhile, the Civil Service Commission (CSC) has urged all government officials and employees to be vaccinated against Covid-19.
On June 16, the CSC promulgated Resolution No. 2200239 to express its support to the government's National Vaccination Deployment Plan and encourage government agencies to "adopt strategies and incentives to encourage their employees to comply with the Covid-19 vaccination".
However, the CSC said that no employee would be compelled to get vaccinated, whether directly or indirectly such as "being discriminated against in terms of tenure, promotion, training, pay and other non-discretionary benefits, or being forced to take a leave of absence chargeable to leave credits." (PNA)