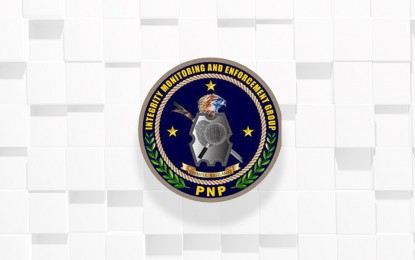 MANILA – Members of the Philippine National Police-Integrity Monitoring and Enforcement Group (PNP-IMEG) recently arrested six erring police officers in separate operations for their involvement in illegal activities.
In a statement Monday, IMEG acting chief Brig. Gen. Samuel Nacion, said these operations are part of the PNP's relentless internal cleansing.
On July 17, IMEG operatives arrested Pat. David Bolor Jr., who is wanted for frustrated murder in Barangay Pinagbuhatan, Pasig City.
Meanwhile, the IMEG nabbed dismissed police officer, Rodrigo Sanoy, the top eight most wanted person in Malabon, along Roxas St. Sampaloc, Manila on July 15.
Nacion said Sanoy, who is wanted for murder, is also known in the area to be involved in various illegal activities such as gambling and is facing "complaints in the barangay for sorts of local ordinance violations."
In Calabarzon, three active members of the Biñan City Police Station (CPS) allegedly involved in a shooting on July 14 surrendered to authorities.
The July 15 surrender of Cpl. Mark Jefferson Arzola, Cpl. Gerald Casanova and Pat. Amiel Howell Alcantara, was facilitated by the IMEG's Team Calabarzon.
On July 19, Pat. Karl Mikhail Almazan, a member of the Highway Patrol Group's (HPG) Intelligence Division, was nabbed by the IMEG Central Luzon members together with the Bulacan police.
Almazan has a standing arrest warrant for violation of Republic Act 7610 or the Special Protection of Children against Abuse, Exploitation and Discrimination Act.
"We are fully committed to continuing the PNP's Internal Cleansing Programs to cleanse our ranks and identify rogue PNP members whether they are active, retired, or dismissed from the service," Nacion said. (PNA)