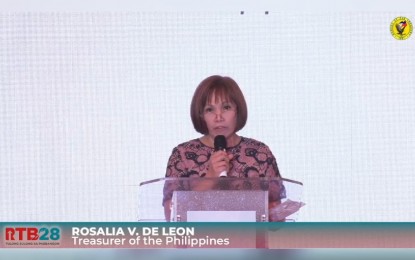 MANILA – The coupon rate of the 5.5-year retail treasury bond (RTB) that the Bureau of the Treasury (BTr) will issue for two weeks starting Tuesday stands at 5.75 percent.
Its average rate was 5.579 percent, higher than the 4.564 percent the same tenor fetched previously.
The BTr offered the debt paper for PHP30 billion and the auction committee awarded PHP162.721 billion.
Total bids were more than seven times after it reached PHP225.32 billion.
National Treasurer Rosalia de Leon is optimistic of the continued strong demand for the Marcos administration's first RTB issuance.
"Auction results already showed strong interest," she told journalists in a Viber message.
During the launch of the RTB offering, streamed through the BTr Facebook page on Tuesday, de Leon said they continue to push for digital innovations to support the government's financial inclusion agenda.
"RTBs serve as a stepping stone for making investments in fixed income securities easier and more accessible to all investors and most especially to our small savers," she said.
The BTr will offer the RTBs, intended for small investors given its minimum placement of PHP5,000, from Aug. 23 until Sept. 7, 2022.
It has tapped 21 financial institutions as authorized selling agents and these are the Asia United Bank (AUB), Banco de Oro Unibank Inc. (BDO), BDO Capital & Investment Corporation, Bank of Commerce, BPI-Capital Corporation, China Banking Corporation (Chinabank), Citibank NA, Development Bank of the Philippines (DBP), East West Banking Corporation (Eastwest Bank), First Metro Investment Corporation (FMIC), ING Bank NV, Land Bank of the Philippines (Landbank), Maybank Philippines Inc., Metropolitan Bank & Trust Company (Metrobank), Philippine Bank of Communications (PBCom), Philippine National Bank (PNB), Rizal Commercial Banking Corporation (RCBC), Robinsons Bank Corporation, Security Bank and Trust Company, Standard Chartered Bank, and Union Bank of the Philippines (Unionbank).
Investors can go to these banks to inquire about the RTB or order through the BTr's online ordering facility at
www.treasury.gov.ph
or through mobile apps of the Landbank, Overseas Filipino Bank (OFBank), and Bonds.PH.
Holders of previously issued bonds, namely FXTN 10-47, RTB 5-11, FXTN 10-58, and RTB 3-10 are allowed to swap their holdings for the new RTB offering.
During the same event, Finance Secretary Benjamin Diokno said issuance of the RTB is a major component in the government's fund-raising activities.
He highlighted the fact that RTBs are "safe, low-risk, and affordable investment instruments that allow Filipinos to contribute to nation-building while growing their hard-earning savings with better returns."
Diokno said the government has raised over PHP4.37 trillion funds since first RTB issuance in 2001, adding this particular securities has "proven to be the strongest performing financial instrument in the Treasury's portfolio of bond offerings."
"Our growing retail sector is proof that the retail treasury bonds are a viable pillar of domestic financing. With their consistently strong reception from both local and overseas investors, the retail treasury bonds now account for around 35 percent of the Bureau of the Treasury's outstanding government securities," he said.
He added the government targets to raise PHP2.2 trillion this year to finance its programs and 75 percent of the amount is aimed to be raised through the local capital market to limit foreign exchange volatilities. (PNA)