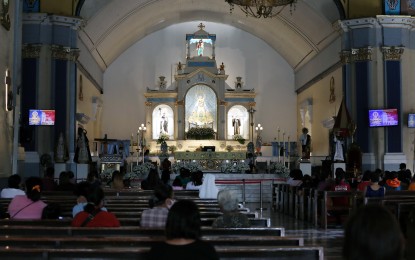 MANILA – A prelate of the Fatima Parish Church in Guadalupe, Makati City on Thursday urged the Catholic faithful to pray more amid uncertainties brought about by the Covid-19 pandemic and war between Russia and Ukraine.
"We are at the end times!" Fr. Carlos Reyes replied when asked by the Philippine News Agency for comment on the current situation in the world.
Reyes made his comment on the 105th anniversary of the great apparition at Fatima by the Blessed Virgin Mary before three young shepherds – Lucia, Jacinta and Francisco in 1917.
During the Fatima Apparition, the Blessed Mother appeared six times every 13th of the month starting May to October 1917, except in July when the three seers were arrested by the Portugal police. Nevertheless, the apparition occurred on July 19 that year after the three shepherds were released from prison.
It was during the sixth apparition that also occurred the "Dancing of the Sun," a heavenly spectacle, witnessed by over 70,000 people, who went to Fatima, Portugal to see the almighty power of God.
"What we need urgently today is to pray, pray, and pray and ask God's forgiveness for the conversion of Russia for the world to attain a genuine and lasting peace," Reyes said.
Reyes added that "actually, the end times has started long ago, but we do not know when it will end. Only God knows with the Second Coming of our Lord Jesus Christ, so we must be prepared all the time."
He also said abortion must be stopped now as he explained that "human life exists at the moment of conception."
"Another grievous sin by man is abortion. The end times is fast approaching whether we like it or not. It is in the Bible and in the Third Secret of Fatima," he added.
He asked the faithful to pray, especially the Holy Rosary daily for man's salvation.
Incidentally, October is Holy Rosary Month. (PNA)