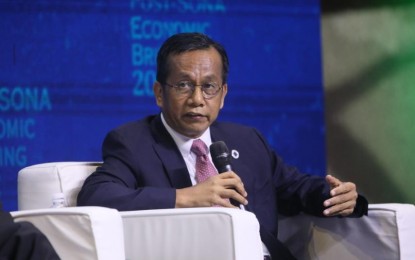 MANILA – Integrating climate action into the country's development plan now becomes a necessity amid impacts of climate change, Socioeconomic Planning Secretary Arsenio Balisacan said.
In his keynote speech at the launching of World Bank Group's Philippine Country Climate and Development report Tuesday, Balisacan said the upcoming Philippine Development Plan (PDP) 2023-2028 will include actionable plans that will help the country pursue a greener economy and more sustainable, affordable and livable residential areas in the next six years.
"Now more than ever, the integration of climate action into our development plans is of absolute necessity," said Balisacan, also the National Economic and Development Authority (NEDA) chief.
He said this is critical for the Philippines as the country is subject to adverse weather conditions compared to other parts of the world.
"The Philippines also has a running ecological deficit –wherein our ecological footprint (or the impact created by our population on our environment) goes beyond our area's natural capacity. If we do not get our acts right soon, more communities will be routinely displaced, more economic activities disrupted, and more agricultural systems devastated due to these extreme, climate change-induced weather conditions," he added.
The World Bank report said the Philippines is vulnerable to impacts of climate change that can affect its economic growth in the long run if this will not be addressed.
Balisacan said among the priority actions integrated in the upcoming PDP 2023-2028 include mechanisms involving carbon pricing and incentivizing local government units to focus on more climate-friendly projects such as electric vehicles, sustainable tourism, biodiversity protection and energy efficiency. (PNA)